Powering your WordPress website is all about adding functionalities that make things happen for people who are avidly accessing your website. To accomplish that, WordPress websites rely on a lot of plugins that individually add specific power packed features to your site's architecture.
Since WordPress runs 30% of the entire internet, there are a lot of plugins existing within the WordPress repository; a lot of them. There are a lot of chances that many of these plugins are malicious, looking to infect your site's database and files. Hence you need to perform a few maintenance tasks on a regular basis. However, figuring out the right plugins can be a tricky act and call for a lot of pre-requisites.
[bctt tweet="So, how do you make sure that your choice of the #plugin is the right one? What are the warning signs that you should look out for so that you never #download an #unsafe plugin?"]
Look for these seven warning signs when you are digging deep for a plugin of your choice.
The plugin ratings are super bad
The ratings provided for the plugin are a prime determinant of the plugin's reliability and credibility. Curated by the many users who have had their share of experiences with a particular plugin, these ratings will help you figure out if the plugin is reliable. If you come across a plugin that has less than two stars and other critically negative reviews, don't trust it.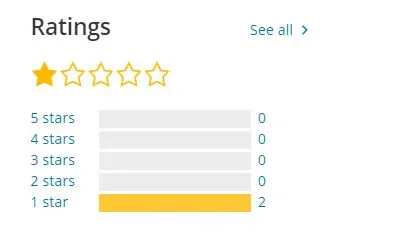 The plugin hasn't been updated in a long time now

That might entirely not be a red flag about an unsafe plugin, but it is always better to count the signs. If a plugin hasn't been updated in a while and shows a warning notification like the one displayed here, you must choose not to install it.
In case, a good plugin has been abandoned by a developer due to some reasons, corrupt coders might overtake it and inject malicious codes which could, in turn, break the integrity of a WordPress website. People who are new to the WordPress ecosystem and are just setting up a site must be particularly careful with this one even if there isn't a critical undertone to it. This is so because downloading such outdated plugins opens up gateways to security loopholes.
The plugin developer is a shady online entity
If you had been looking for a plugin that provides certain functionality for quite a time now, and have suddenly come across one which seems to be relatively new in the WordPress repository, always make it a point to conduct a background check on the plugin's developer. Google a bit of information about them, and if they have a website of their own, they can be trusted, and same goes for their plugin. If you can't gather any info about them, that's a red flag.
The plugin hasn't been downloaded much
Well, this is the obvious one. If a plugin has not been downloaded a significant number of times, do not choose it over other plugins. The rule of thumb states that a bar of fewer than 1000 downloads over a long period should put you off immediately. The number of active installations depicts that a certain plugin has been in current use by the people who have downloaded it.
The plugin is incompatible with the latest WP version
The WordPress moderators review every plugin that goes down the upload funnel. With careful observation of all listed plugins, WordPress makes it a point to furnish all information about these plugins to materialize their credibility. In this pursuit, it displays if the plugin needs to be updated as per the latest WordPress version. If this information exists on a plugin for a larger number of past updates, that is a warning sign to skip downloading it. If the plugin hasn't been tested with many major releases of WordPress, you should abandon the plugin right there.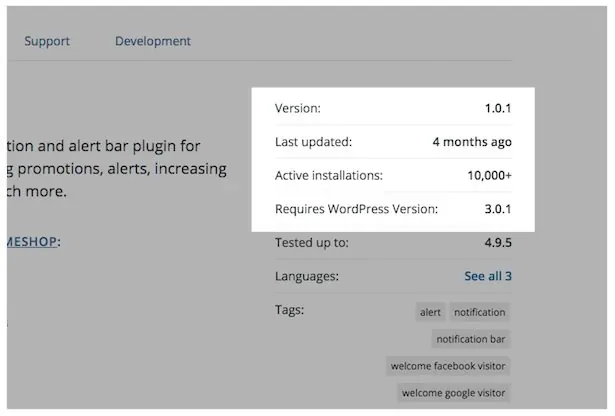 The plugin does not list an option for Support
A lot of developers get their plugins approved and uploaded to the WordPress repository on a daily basis. These plugins are mostly above average. But, what makes a plugin safe and great for usage by the masses is its ability to troubleshoot simpler issues that users might be facing.
If you are looking to download and install a particular plugin, check out the response percentage on support threads of the plugin and if most of the issues are being resolved. If a plugin has no support system, stay away from it.
The plugin lacks documentation
Documentation furnished by the plugin developer helps the plugin users set up the plugin after they have downloaded and installed it. If a plugin is a complex one, the documentation is even more necessary as it will entail the complete installation guide, screenshots, and other details. If this is not the case with the plugin you just stumbled upon, there are higher chances of it being an unsafe plugin. Even if it is not unsafe, you might end up breaking your website in an attempt to configure the said plugin.
Other warning signs: If you have found a WordPress plugin with some external source, make sure it is a credible one such as CodeCanyon or other major WordPress agencies. If you have some knowledge about the code, you can try going through some lines of the plugin's code to see if it's malicious. Also, a large-sized plugin can do much worse things for your site's online reputation, so be vigilant. To make sure that everything else is in place with your WordPress site's security, you can protect your site with Security Ninja.
Conclusion
WordPress plugins can be amazing. With the growth of the community since the inception of the WordPress CMS, the number of theme and plugin developers has grown exponentially. This also leaves the platform open for malicious coders who benefit from other website owners' loss. The only way out is to stay updated with the latest security updates and follow the warning signs above so that you don't fall prey to malicious WordPress plugins.