Because most of the page builders out there are too complicated to use, working with them can be a hectic task.
[bctt tweet="Apart from those complicated #tools you may get used to, find out that #page #builders can be #easy-to-use too. One such easy to use tool is #Brizy by @themefuse."]
Now, you must be wondering what Brizy is and how it is different from other page builders in the market. Well do not worry; we have got your back. In this article, we will share a Brizy review so that you can understand it in a better way and learn why it's a perfect solution for beginner web designers.
Introduction
Brizy is one of the most user-friendly page builders designed for WordPress users. And what's amazing is that this plugin is completely free to use. You just need to go to the official website, enter your email, and you will get the download link. However, apart from the free website, there is also Brizy Pro available that can get you much more.
Talking about the best feature of the Brizy tool – well it cuts down the cost of hiring a designer and developer since the plugin is completely based on the drag and drop system.
Hence, as a result, you will be able to design your website without any problems you might get while coding. Just drop the element that you want to use, then use different tools to edit it, place it wherever you want to and your site will already be one step closer to a finished design. Instead of busting head against the wall, you will be actually enjoying the editor. Building a site with Brizy makes you feel like playing a game, and not doing a task that just needs to be completed as soon as possible.
The Brizy plugin is built on Facebook's open source library React. This helped the developers of the plugin to create great UI and UX designs.
Another appealing feature of the plugin is that you can easily switch between desktop and mobile views. This allows you to test your website design for mobile and desktop view simultaneously. And in the modern world of smartphones, this is a feature you can't go without!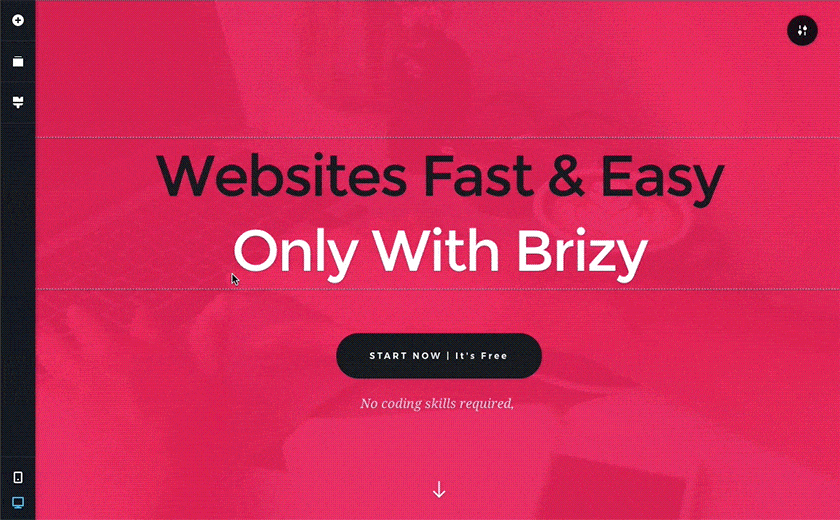 Top Features of Brizy
Moreover, it offers a hell lot of advanced features which let you create contact forms, sliders, and smart tabs.
Great UX and UI Design
One of the most appealing features of Brizy is that it comes with great UX and UI design. This not just makes the whole editing job super easy but makes the designing job a fun thing to do.
If you want to edit something, simply click on an element and you will find the contextual options toolbar. After using that toolbar, you will be able to get all the settings available for that specific element.
Global Colors & Fonts
Brizy also comes with the global colors and fonts. Using this feature, you will be able to control the colors across all the pages. For this, you have to connect the elements with the global palette after which you use the Styling panel in the sidebar to change the colors to your likings.
This is the same case with the fonts. For this you have to connect the fonts with global typography and then use the Styling panel to make the changes.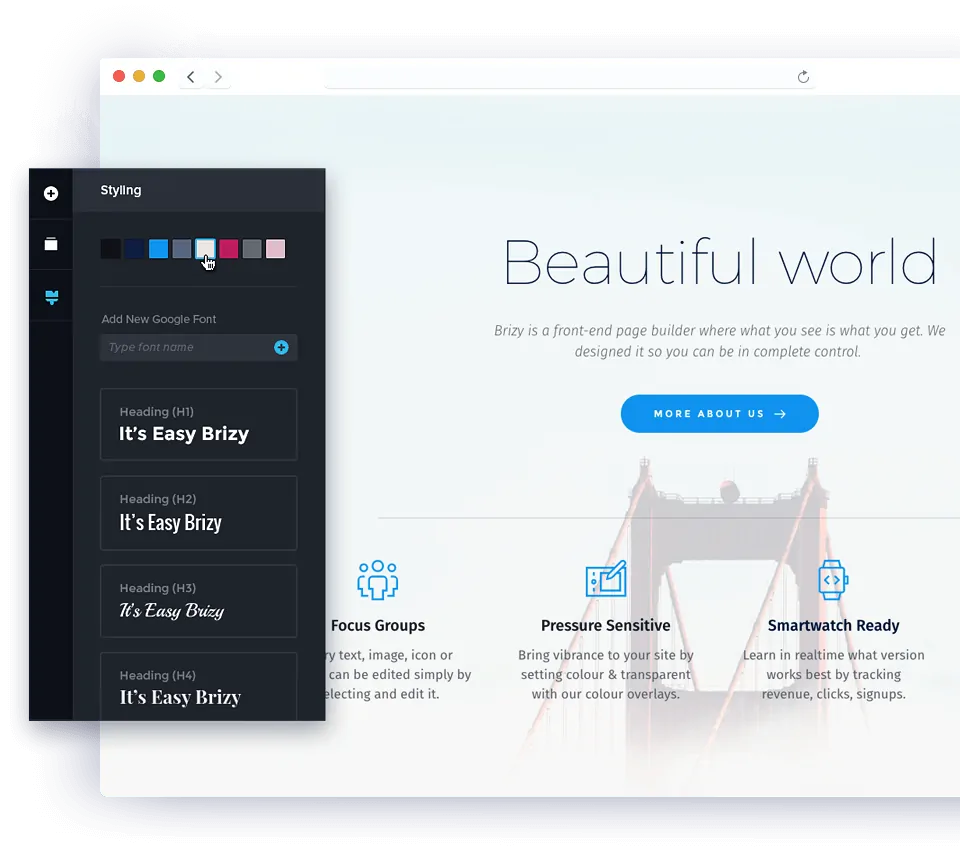 150 Pre-made Sections
Designing a page from scratch can be a tough job. However, when you are using Brizy, you do not have to think about it since it comes with more than 150 pre-made sections.
Just choose a favorite one, start working with it and you will get a beautiful page in a few minutes. And yes, you will still be able to customize those sections to personalize them in details.
4000 Icons Included
Icons make a website look great but getting beautiful icons free of cost is something next to impossible. However, we're glad to see that Brizy is offering 4000 icons divided into 27 categories.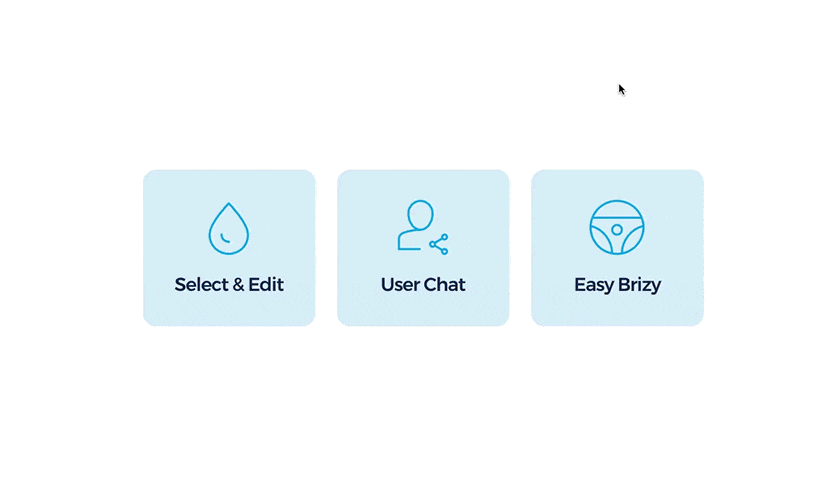 This helps you to find your favorite icons easily. Moreover, it saves quite a lot of time, as you do not have to search for them online. There are even some icons that come with their own grid. So it will be easy for you to create social icons for headers and footers without any add-ons.
Section / Block Slider on the Fly
With the help of Brizy, you will be able to transfer any section into a slider since the plugin lets you create any structure on any slide you want. Just move to that slide using the arrows and create whatever you feel like. This definitely kills the need of using a slider plugin, and we loved it!
Save Section or Block
You can also save any section for later use. This helps you to save the customizations that you have created and later use them to redesign your website or to create a new page. For those of you who earn money by building sites for clients, the option will come in handy.
Global Section or Block
Brizy also comes with a feature which is known as the global option. This allows you to make the sections global and lets you save them in the global tab. That means you can use it later or on other pages without a problem.
This feature comes to rescue when you need to modify something on every page at the same time. Just make the changes once, and it will appear across all the pages simultaneously.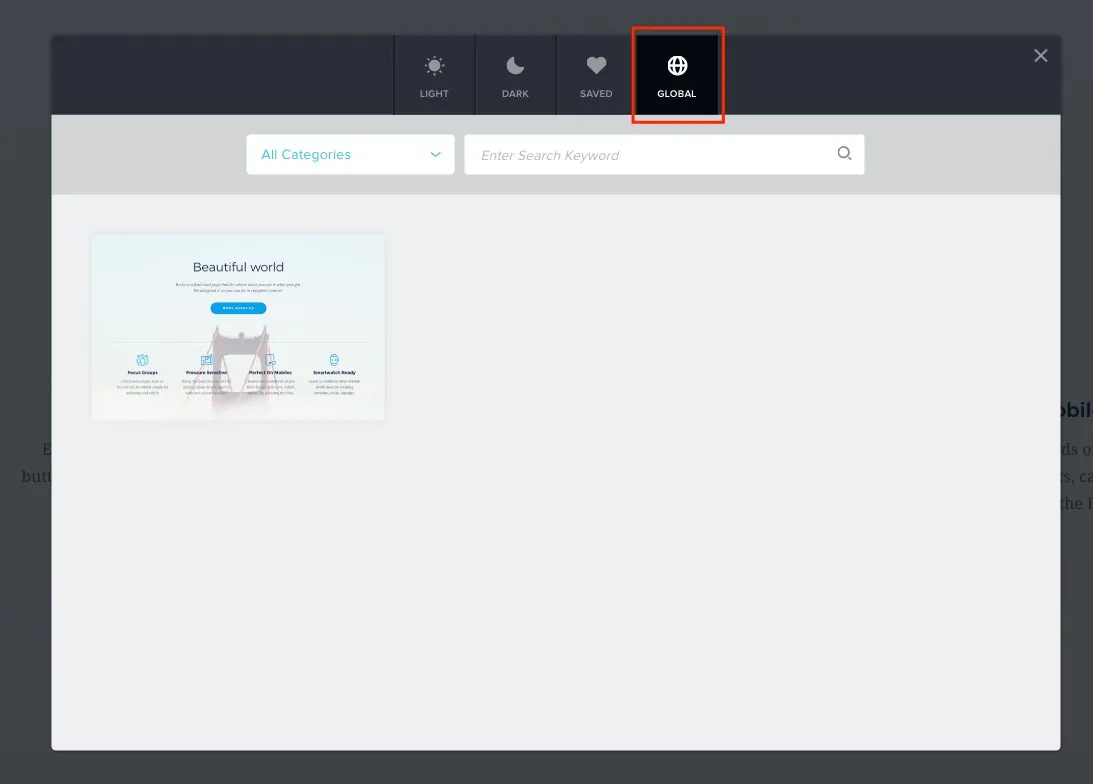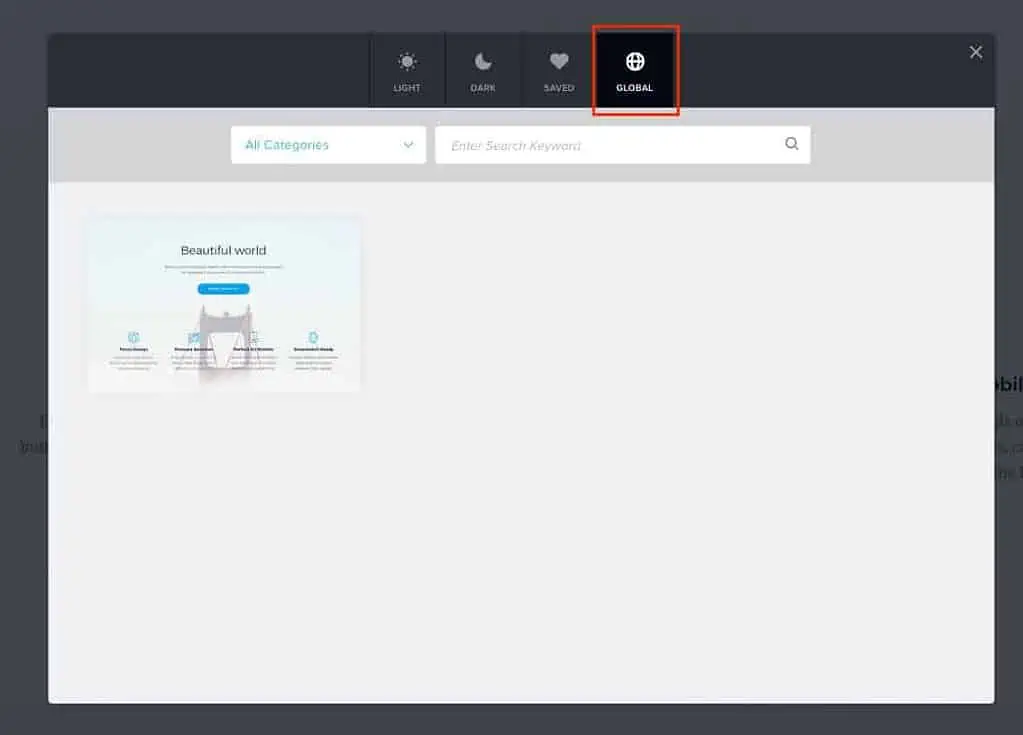 Reorder Panel
If you have a long page to design, then we know the struggle of scrolling the page again and again. However, when you are working with Brizy, you do not have to face such things. Instead, you can reorder the blocks and edit them easily. In the end, place the panels according to your needs and save it.
Buttons
Brizy is also offering some of the great features for buttons. The buttons have their own grid. Also using them, you will be able to create side-by-side buttons. It cuts down the need for level two columns structure or other complicated structure add-ons you might have gotten used to with other page builders.
Image Focus & Zoom
Editing images in real time is a feature that most of the page builders out there don't have. However, Brizy plays the game differently. Using the feature, you will be able to focus on any image or zoom in and out in real time. Just take a look at the GIF below, and you will know what we're talking about. If you tend to place a lot of images on your site, this features is something you will simply adore!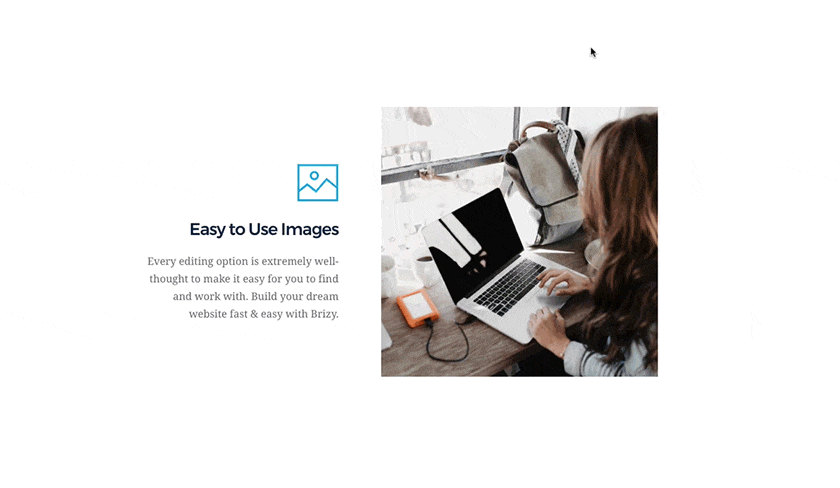 This kills the need of figuring out the specific size and ratio or having any Photoshop skills. Just add a high-quality image and use Brizy's amazing editing tools and you will be good to go.
Anchor Points Resize
Brizy lets you edit a lot of elements. You can resize practically any element or section just by using the free page builder. Simply drag the anchor points that appear on images, videos, maps, spaces and other elements. It is extremely easy to use – all you have to do is drag the anchor points to resize.
Forms
Forms are one of the essential elements of any website. However, creating one is not an easy to do job. Thankfully, Brizy made is really easy for us to create one.
You can easily create a form in a visual way. It offers a lot of styles, and the great thing is that you will not require any
external plugins to create a form
. Brizy will take care of all your needs.
Accordion & Tabs
It is super easy to create any structure in the accordion and tabs elements using Brizy. All these features are available free of cost, where on the other hand most of the page builders lock down the features for premium users.
Section padding
With Brizy you will easily be able to control the block padding by dragging the top and bottom handles. This is one of the excellent features that web designers will love to use. It allows you to create the paddings on sections directly on the interface. As a result, you do not have to drag and drop elements from the sidebar. This saves time and makes the job super easy.
Countdown
Many people out there love to display countdown timers before launching their website. This is usually done with the help of a coming soon plugin. But if you want a countdown timer on a live site, creating one is super easy with the Brizy.
Just drag and drop the countdown element and it will adapt to your time zone. You will also be able to show when exactly an offer or deal is going to launch or expire based on your visitor's time zone.
Text Editor
An average website isn't good without some text. The Text Editor allows you to enter text to a specific element. Also, you will be able to control each paragraph separately. If you want to add multiple paragraphs in a specific area, the Gap option will let you do so.
Links
When you decide to add a link to a section or block, just select the element or text and reach for the link option. With this feature, you will be able to set anchor links without any settings or messing up with the website code.
Auto Saving
In the end, it is important to note that Brizy offers an auto-saving feature. As a result, you do not have to hit the save button all the times. Just make the changes, and it will save automatically. Even if you close the browser at any moment, Brizy will save your dignity by saving the content for you.
So that was all for the Brizy Review. Now it's your time to go ahead and try the plugin. If you have any questions, feel free to leave a comment below and don't forget to show us what you have created with this amazing page builder for WordPress.