WordPress enables you to make visually stunning websites in a few short steps. These sites would be secure and mobile-friendly. It is equally important for your newly-created website to be SEO-enabled. Because SEO is the process by which your website features towards the top of the search engines when a user conducts a search.
The process of enabling is technical but don't let that scare you. Plugins do the job and do it well.
SEO plugins are a kind of extension for browsers and software solutions. The plugin equips the source software with some specific functions. This has a positive effect on search engine optimization, online marketing, and related aspects.
With an SEO plugin, you can add metadata to every page of your website. The page title and meta description will feature in your page code and search engine results. Through this, the search engine gets to know what your website is all about. You need to write a meta description and optimize it for the keywords that your customers would use to search for your product/service.
And this is where WordPress websites score high. There are a host of services that a plugin would perform for you to make your site up-and-running with all the necessary attributes. You might be thinking already – what are the best plugins for WordPress to build SEO friendly website?
Keep reading as we take you through the five top SEO plugins for WordPress.
Yoast SEO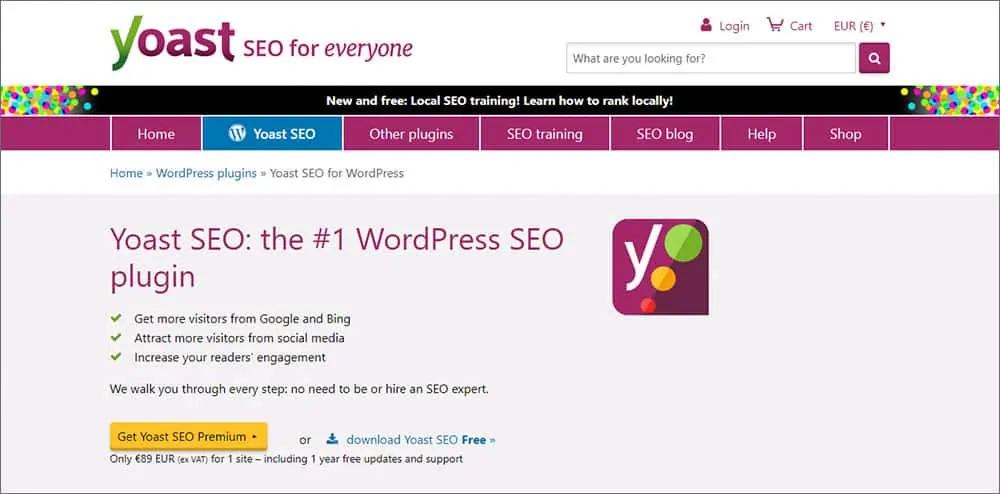 Yoast makes SEO easy for every type of site. It's one of the reasons that make it among the most popular WordPress plugins. Be it a large organization or a small neighborhood startup, every online entity needs strong SEO to make their website visible to target audiences.
This plugin allows you to enter the keyword or key-phrase that you would want your webpage to feature in Google search. Yoast lets you add related keywords also. It alerts you if you don't update your content in six months.
Pros
Yoast SEO is easily accessible and user-friendly
Yoast SEO pinpoints basic content based SEO flaws in the site, like usage of excessive passive voice, long sentences, grammatical mistakes, etc. These pull down the SEO score of a site.
Yoast SEO does the proofreading for your content to identify spelling errors or wrong keywords.
Cons
At times, for the sake of creating catchy keywords, you might need to twist a grammatical rule to a certain extent. But Yoast will make a red light appear in such cases. Some inherent flexibility would be welcome.
Yoast follows the written text too much without fully gripping the intent. You might vary the keyword several times to create the desired effect. But Yoast will rank the site's SEO-friendliness only for exact word matches.
The free version has few worthwhile features. So, you won't have much of an option but opt for the Premium option.
RankMath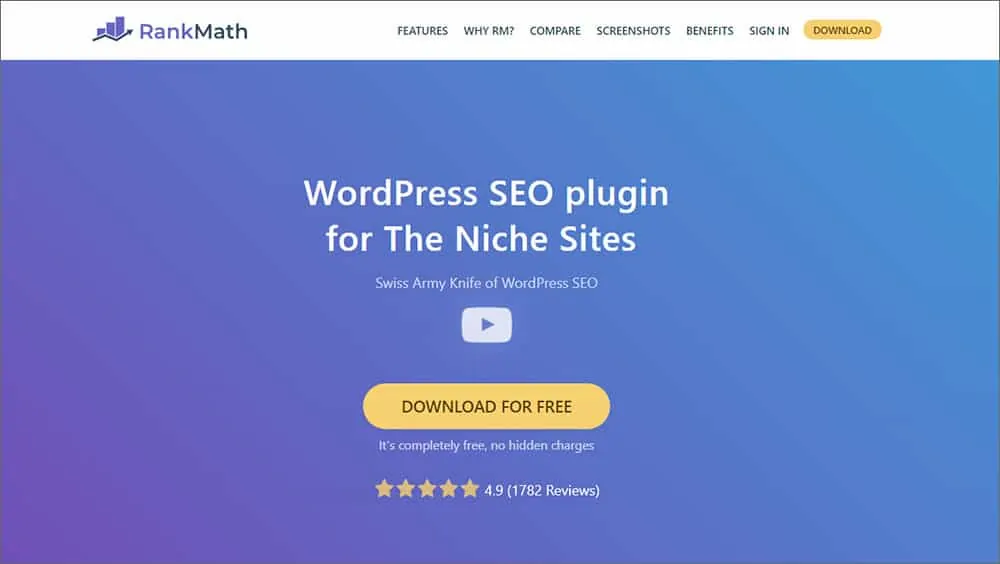 RankMath also features among the more used WordPress SEO plugins. It comes with a step-by-step setup wizard that takes you through the process of installation and configuration, resulting in a perfect SEO for WordPress.
Pros
It's easy to use
You can import settings from other plugins like Yoast and others
It is entirely free. Yes, all the features.
Comes with a redirection module
You can optimize up to 5 keywords
Cons
It will be difficult to move from RankMath to any other WordPress SEO plugin as the latter doesn't support this import
All in One SEO Pack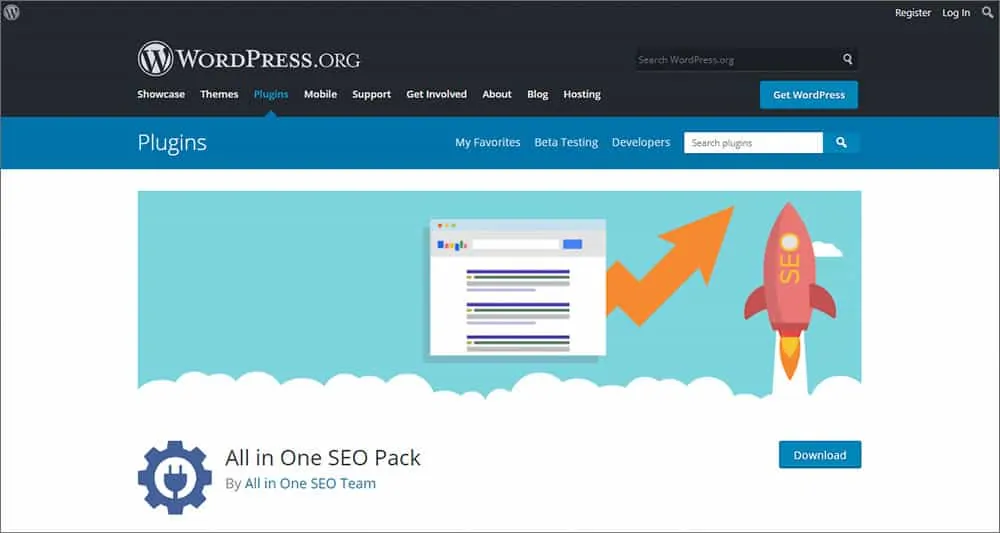 Since 2007, the All in One SEO Pack (AIOSEO) has been downloaded more than 65 million times. That speaks volumes about its popularity, and why it counts as among the best SEO WordPress plugins. It comes with XML Sitemap support and Google Analytics support. It will also automatically generate Meta tags.
Pros
Easy to use and simple to set up
Helps to automatically optimize the titles of your site for various search engines
The free version has attractive features as well. E.g., through WooCommerce, use it with e-commerce sites
You can edit the title and description without any difficulty
Other plugins can access it without hassles
You can turn on and off the advanced tools that control tagging, search engine following, and indexing – for any particular post
Cons
Absence of SEO scoring and content analysis
Lack of professional support in the free version. However, it's there for one year in the Pro version
Tough to import data from Google Search Console
SEOPress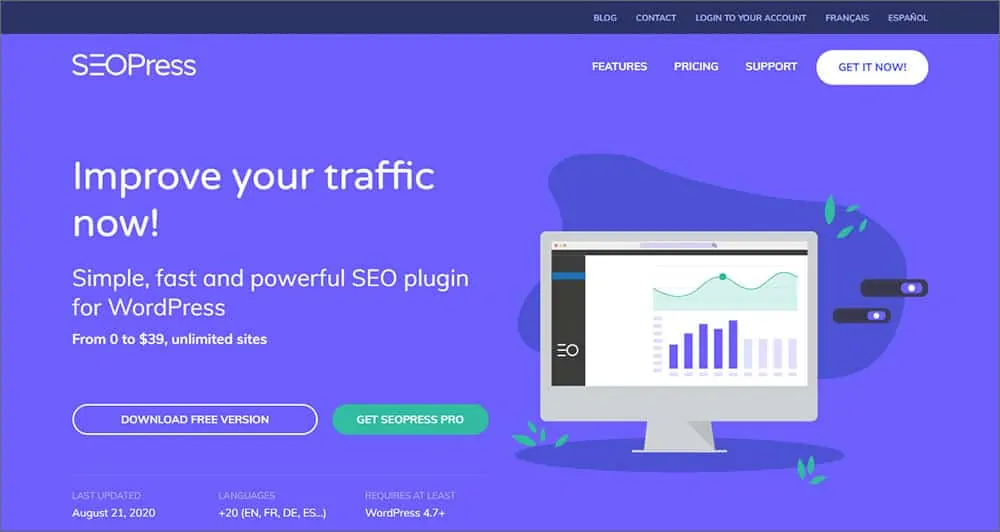 It's fast. It's powerful. And it's simple. These adjectives aptly describe this SEO plugin from WordPress. With more than 1,00,000 installations already done, SEOPress too scores high on the popularity index. You can make XML and HTML sitemaps. SEOPress is Google Analytics-ready. And it is ad-free, even in the free version.
Pros
The free version offers analyses of content
You can use it for an unlimited number of websites
The facility of Link Manager helps you to build your internal links
Facilitates Google News setup
White label solutions available for both front-end and backend
Offers the facility of Google Analytics Enhanced Ecommerce through WooCommerce
Helps in monitoring broken links and re-creating SEO friendly URLs
Is available at a throwaway price of $39 per year
Comes with the Google Local Business feature
Cons
With a range of features, there is a big learning curve here. Even if you are hands-on with SEO for some time, you would need to spend some serious time in SEOPress to get a hang of the total features.
Customer support is not always at a satisfactory level. The response time from the backend team can go up to a couple of days
It is difficult to import the configurations from other SEO plugins
The SEO Framework
The SEO Framework has some features that set it apart from other SEO plugins. It is the fastest SEO plugin with full features. And it is also unique in the sense that it is the only full feature-laden SEO plugin that sticks to the white-hat guidelines.
The SEO Framework allows users to get their website ready without any hassles. It assures a stable environment where the user can work – without tackling advertisements and branding. And the users need not have any prior SEO knowledge. Also, the moment you activate The SEO Framework plugin, your site will stand guarded against negative SEO attacks.
Pros
The only solution that is capable of generating critical SEO meta tags in various languages.
The technical SEO settings are highly customizable
Facilitates metadata optimization without much hassle
It is ad-free
The entire plugin with all its features is free
Cons
In the free version, you won't have access to useful features like on-page SEO content analysis
So, which are the best WordPress plugins for SEO among these five? It's difficult to pinpoint any one or two. Each of these has distinct features, along with specific pros and cons. Select the plugin that balances between the pros and cons, and comes closest to replicate your vision of SEO plugins for your site.