Building a website is a demanding job, but none of us can afford to spend weeks and months to create one. A solid plan requires an operational website in a short period of time. The main task of the easy-to-use application from Designmodo is to make it possible. All you need to start is to follow your visual inspiration, and Slides will help you with the rest.
Whether your design is simple and intended for landing pages, or more sophisticated, you will have all the necessary tools at your disposal to build an amazing layout. Aesthetic has not been the only criteria that count.
[bctt tweet="Function and usability are also necessary to make the #website fully successful. If it is not comprehensive, the #content of the website may remain invisible to a wider audience."]
Fortunately, Slides Framework offers a variety of components which will help you upgrade your business to a next level. The components are balanced to work together in favor of your needs, and according to the purpose of the website. In that way, the content becomes clearly visible, and the business seems transparent. Custom design is what every user can do on their own, without investing a significant amount of money to pay for professional design services. Slides Framework is a tool that respects individuality and therefore excludes the possibility of duplicated sites.
Fast, Attractive, and Quality Representation
If you are in a search for good ideas, check out the examples at Designmodo. As you will see, the first thing to do is to represent a profile of your company in a visual manner. At first glance, the visitor shall recognize the industry.
With the Slides Framework tool, colors and typography can be used in many different ways, depending on whether you intend to amaze the audience with a visual appeal or to attract it with the content. Actually, you do not have to choose between the two. Every component of the website builder has its precise role in representing the content on the web fast and in an attractive way, without compromising the quality of it.
Competitive advantage is what everybody is longing for. A wish combined with passion and dedication will lead you on the way to establish an adequate digital solution for your brand, blog or any other kind of business.
Designmodo's Slides website builder is suitable for designers as well. One of the many options is to create a gallery-style website. Acting as a virtual show, it displays the design studio works at their best. Cool hover animations add more dynamic to the website and inspire clicking on various icons. It does not surprise why many start-up companies all over the world choose this tool to build web presentation. At any stage of the process, it offers a variety of great solutions. Just check these great examples.
Multimedia Forms in the Layout of the Website
How you will grab the attention of visitors depends on your preferences, but using and combining multimedia forms can be the right choice. Striking photos and videos are invasive, and in Designmodo Slides they function together smoothly.
You should not forget that vibrant websites always seem more creative and professional. The main point in building the website is to fully integrate photos and videos with comprehensive information. The functionality increases the visibility of any kind of marketing projects. Impressively animated websites target the market more efficiently, and the implementation is not at all slow and complicated. Therefore it is suitable for specialized websites whether they represent portfolios or online shops.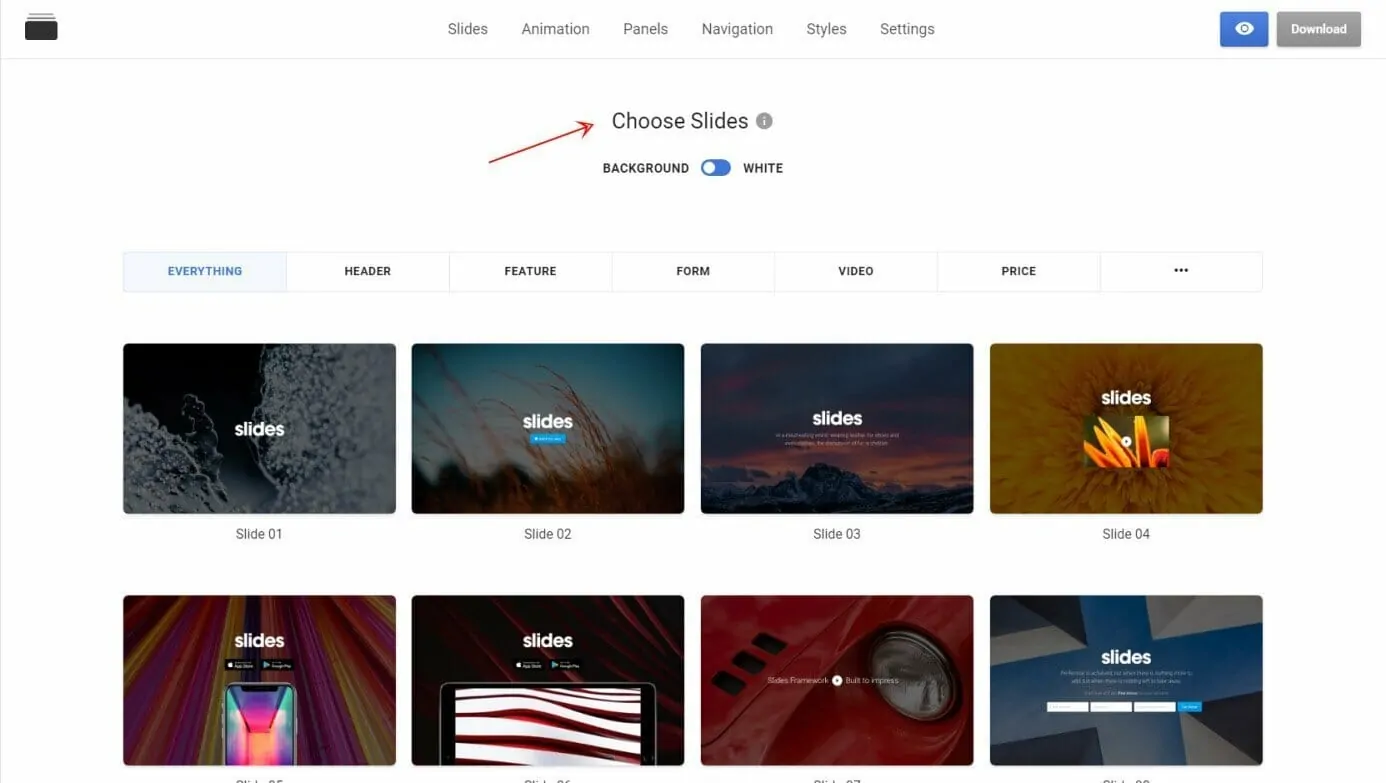 Clean and easy customizable display is user-friendly. If you need to change a campaign or to build a new one, you can do it on the fly. The powerful, highly responsive generator requires only minutes to create retina-ready animated websites with ready-to-use code. No programming skills required. You can freely choose the slides you find most convenient for your website and use a clean code to design.
More than 180 slides are far more than enough to find the proper layout. Each slide contains animated effects to make your website vibrant. Slide and scroll in a classic manner or choose smooth motion among 10 effects between the slides.
Powerful Generator Features Slides Framework
The main component of the generator is Slides Framework on the right side. Consider it your personal assistant and rely on its features to help you build a website.
After you have chosen slides and animation, concentrate on the panels. Panel settings are separate for the top and bottom panel, but in both cases, you can choose how to organize background color and visibility. The same principle has been applied to navigation. Navigation settings help you determine position, style, and size. It is our advice to try different options. Additional settings will offer you a detailed explanation of every function.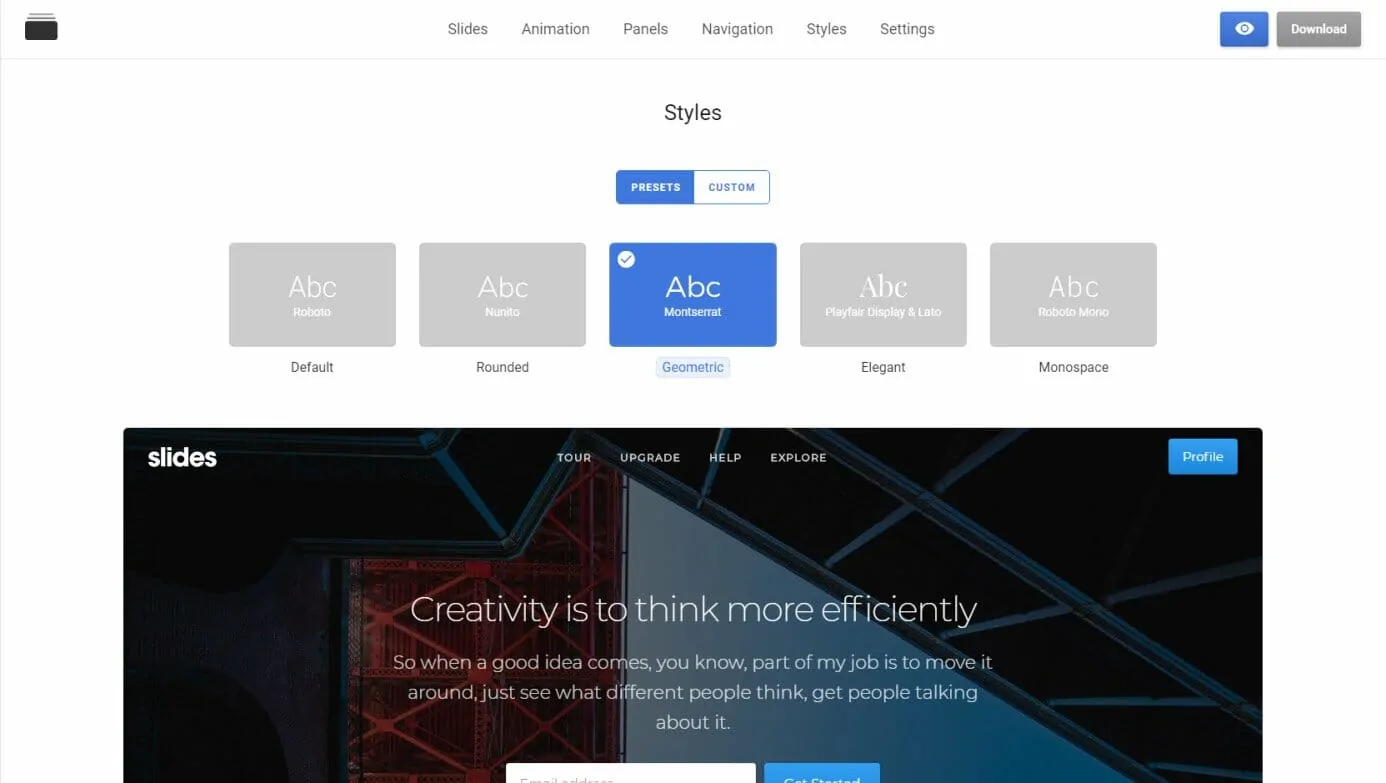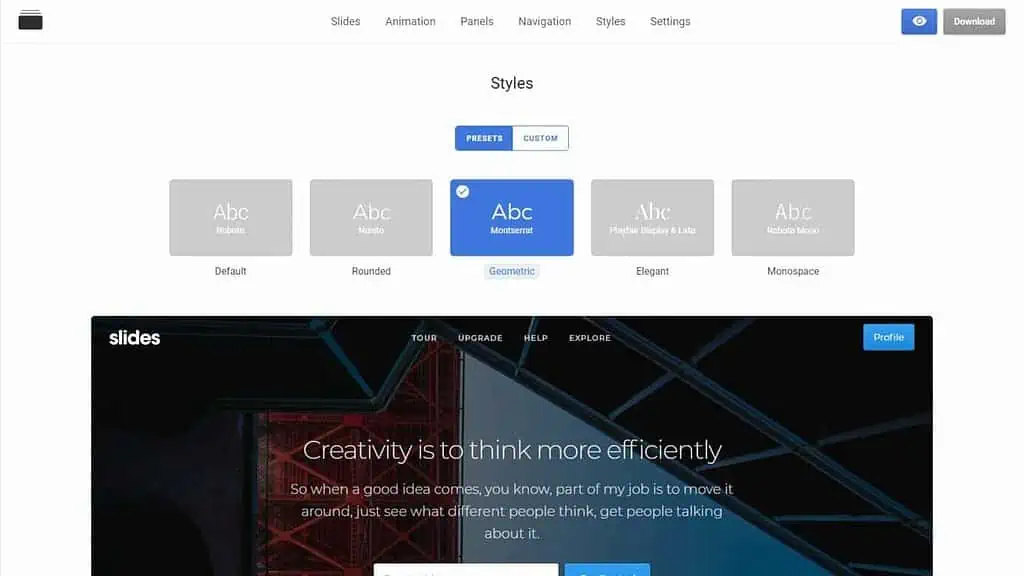 Your creativity starts here, but keep in mind that design has to correspond with efficiency. If it is not functional, it will disturb the content, and the information will not be clearly presented.
Be bold to proceed with a good idea but do not exaggerate. You can also customize the website for the appearance on mobile devices. You can deactivate slide effects and animations for a simplified version on mobile. Striking color designs are trendy nowadays, especially for portfolio websites connected with social media. The combination of a minimal design and bright color is a perfect match.
Animated components of Designmodo Slides are of a cinematographic quality thanks to a well-balanced relationship between the background, foreground, and other elements. The same quality is preserved by implementing black and white combination or white a white background. The 100% readability of the display remains.
Developer Friendly Built-In Modules
In accordance with your preferences, built-in modules are a bunch of easy to setup options you can further customize. Here you can place specific buttons you will need to keep the attention of the visitors and potential customers. Top and bottom panels are places where call-to-action will serve the best while the identity of your company is recognizable from the logo and introductory sentence.
The main compartment of every comprehensive website is communication with customers. To make it simpler and to receive direct messages to the email address, create a contact form and supervisor account to help you keep the track. Your project does not have to be completely developed at the point you decide to build a website.
Designmodo Slides application is convenient for any further development since you can rely on built-in components and features that are easily customizable to your needs. The only thing necessary is a good idea and a vision for its development. The clean code was built with HTML, CSS, and JS, and designed to be changed with no effort. The code is easy to understand, but just in case, you can go through setup instructions and help guide. There will you find examples that might be of great help.
Let the Website Reflect Your Style
What Slides tries to accomplish is profound interactivity between all its elements providing constant support for all of the animations. The designer does not have to bother with coding.
Interactivity encourages visitor interaction and spurs call to action. This button can be placed on every slide without interrupting the readability. Remember that the slide transitions can add to interactivity. This engaging element elevates the design and grabs the attention. Selling capabilities increase with the collection of integrations. They can include forum, chat or provide directions.
Slides Framework toolkit cannot produce two equally designed websites. The app is convenient for beginners who are on the very first step of running a business. The variety of descriptive user manuals help for sure. Even before you have brought the main project to light, you can use the app to create the landing or
coming soon pages
.
Email signup is integrated into the design, and you can count on the starting audience after having launched the website. Styles tab will be your favorite. Here you can try premade styles and compare it with other similar websites or you can completely change it and make your own font combination. Most importantly, you are not limited to the number of slides. Everything will perfectly work with two or a dozen.
Wrapping up
There are no boundaries in design. It is on your part to choose a style and moves forward with minimalism, black and white outline, color display or bold transitions and animations. Successful design is always comprehensive and it matches the content.
Typography is utmost important. It enables readability but it should not be oversized. Whether the attention is on images, videos or words, all three components work together in Designmodo Slides. It is your responsibility to take advantage and make them work in your favor.
The good design draws users into the content, and that is why it is so important. If your website is overloaded with the content, you can change dynamics by applying vertical and horizontal slides. Such a combination can be clearly organized with the toolkit. However, not only animations and interactivity are what people love to see.
The static elements in the design are not less appealing. Just on the contrary, they can be striking, especially if combined with the top layer movement. The priority is to keep visitors engaged, and you can do it with your creativity and built-in templates and solutions of Slides. Maybe you think you would not be able to make a movie-style website without the help of a professional designer, but the only help you need is that of the easy-to-use app with the great variety of functions and lot of options for customization.