If you didn't just travel here via a portal from medieval times, chances are you've probably seen at least one or two under construction pages on the internet. Some are just plain boring and you quickly forget you ever saw them, others are flashy enough to grab your attention for valuable few seconds.
If you are using WordPress to run your website then you already know that those few seconds of visitor's attention are what differs useful from useless under construction page. It takes a special kind of artistry to make a difference while being stuck in the in-between, but a good Under Construction Page will do that for you. However, we are not here to talk about a good under construction page, we're here to talk about an awesome one – UnderConstructionPage.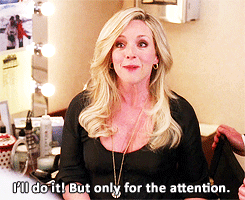 UnderConstructionPage isn't just a temporary placeholder, like so many others. It is a competent and capable tool, that will do a ton of functional work, while you are busy setting up your app, personal portfolio, or an eCommerce store. One of the main advantages of this terrific plugin is that it takes virtually less than a minute to install and fully configure, which makes it completely beginner friendly.
Created for beginners and professionals
If you are a novice and you've just registered a domain, but you are busy adding the finishing details on your website, this particular plugin is exactly what you need. Furthermore, if you are a WordPress veteran, then you are probably already sick and tired of cumbersome builders that consume both your time and nerves to accomplish a rather simple task. The UnderConstructionPage plugin is simple, fast and has solely the options you will need to create pages without hiccups and setbacks.
On the same note, the UnderConstructionPage plugin is also fully multilanguage ready, which means that you can translate your own under construction page to over 100 languages quickly and with just one simple click.
Almost 200 templates to choose from
With this terrific UnderConstructionPage plugin you don't have to settle for a simple generic template that so many other plugins usually offer. You should choose a template that will get your potential customers talking and spreading the word. Before you start stewing on how that particular template should look and how to recognize it, we should mention that this great plugin offers more than 160 templates to choose from.
Furthermore, four new templates get added with each update, which only broadens possible choices, making it easier for you to find the exact template you've been looking for. A good template will allow you to launch an awesome under construction page remarkably quickly, which ultimately saves you both time and money.
Choose a template, change and add a few lines of meaningful text and you are all set to go.
This easy and swift action is especially good if you need to move quickly and right some wrongs immediately. Creating a proper under construction page this quick will give you more time to focus on your project or a problem at hand.
Free images at your disposal
UnderConstructionPage also offers more than one million gorgeous searchable images in both HD and 4K resolutions. All of the images that the UnderConstructionPage plugin is offering are completely royalty free and ready for use. This particular feature comes in handy when you can't find the proper image for your page on the web. Needless to say, most of the time, the images you like best are usually too small or too expensive. With UnderConstructionPage plugin, you will easily find a terrific image without paying extra cash or wasting your time on resizing through additional programs.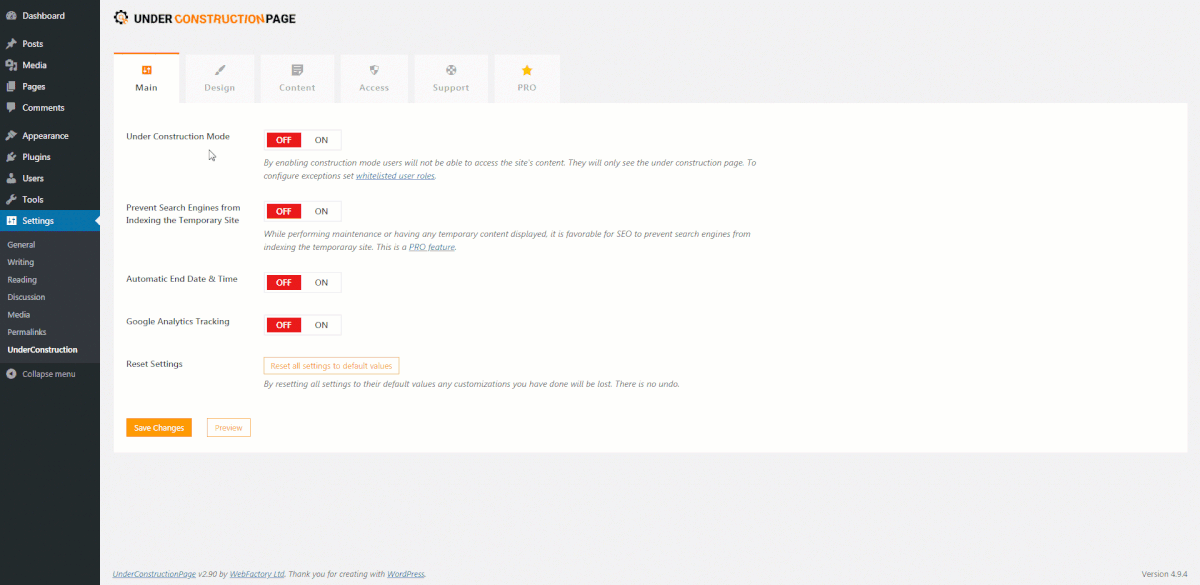 Now that we've determined that the UnderConstructionPage will let you discover, customize and set up an amazing page in virtually no time, we should also mention some of the things it actually does. For example, this plugin will provide you with tracked and targeted traffic. That basically means it can generate inbound links with just one click and share those links on social media or with your preferred affiliates.
All the features you will need
This is done in order to pinpoint the traffic that has the highest conversion rate, which ultimately creates a marketing buzz, promotes your product, service, app, personal brand, or company on social media feeds, and also increases your number of followers. Social links or icons include Facebook, Google+, Twitter, Linkedin, YouTube, Pinterest, Vimeo, Dribble, Instagram, Behance, Phone, Email, Skype, WhatsApp, Telegram, VK, and Tumblr. New social links get added with every update, so if your favorite isn't included on the list it will undoubtedly be added soon.
The UnderConstructionPage plugin also has full support when it comes to collecting subscribers and leads through optin boxes and optin popups.
This particular option is provided because the UnderConstructionPage plugin has a MailOptin plugin integrated within. MailOptin allows you to grow your personal mailing list, as it is connected to MailChimp, as well as several other autoresponders services.
Maybe you are in the middle of something big, like an acquisition or complete design change, and you want a specific page to emphasize that. The UnderConstructionPage plugin will provide that as well. Sales pages, landing pages, maintenance pages, coming soon pages and under construction pages – with this awesome plugin you can build all of them. UnderConstructionPage plugin can function as your autopilot and take control over your entire website, while you are busy doing other, more urgent things.
When it comes to more common features, the UnderConstructionPage basically allows you to fully customize it from headline to content and login button, as well as create a page title and description in accordance with your SEO needs. The plugin also features the Whitelisted User Roles and Whitelisted Users options, which allow you to control which user roles and users can see the site instead of under construction page.
In addition to all of the stellar features, UnderConstructionPage also hosts a built-in support system, meaning that you are able to message the competent and diligent support agents from within the plugin.
With this particular feature, you are also avoiding tedious registration process or any kind of unnecessary fuss. The UnderConstructionPage plugin is compatible with WP Super Cache, W3 Total Cache, SiteGround SuperCacher, Endurance Page Cache, Swift Performance Cache, and WP Fastest Cache.
In conclusion, the UnderConstructionPage plugin will certainly do its magic if you let it. While you are otherwise busy, the plugin will promote your site; drive people to your mailing list acquiring you some valuable subscribers; inform your users about the future plans for your site; help you establish an SEO foothold; promote all of your social media feeds increasing your followers count, and provide a contact making it easier for you to receive a feedback. Start running your website with the help of UnderConstructionPage, you won't regret it.