In order to fully understand how this terrific plugin works, we need to grasp the full extent of what .htaccess file actually is and does. This can be a bit tricky as the subject still baffles countless developers. However, the benefits of .htacchess are numerous, so it is no wonder that the web is rich with a large number of tutorials on how to use .htaccess and get the best out of it.
A large portion of these tutorials and articles are practically useless once you consider the bigger picture. Most of them just touch on one or two operations involving .htaccess, as well as one or two examples. Needless to say, the subject of .htaccess has proven itself to be too vast to be successfully encompassed within just one article or twenty-minute tutorial. That is why developers felt compelled to create one plugin that will help you edit .htacchess easily and without any commotion.
In this article, we will do our best to clarify how you can put to use all of the stellar features that WP Htaccess Editor plugin has to offer, but we will also try to analyze some of the advantages that .htacess files themselves can offer.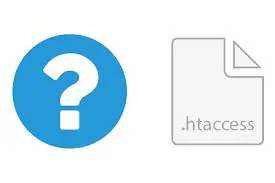 .htaccess file – the basic definition
In short,.htaccess file is a configuration file that is read by the server and it affects how a particular web server responds to a variety of requests. It is capable of overriding a large number of configuration settings, as it runs at the level of a directory. It can be used for authorization, cache control URL rewriting, and website optimization. In WordPress, the .htaccess file is mostly used for rewriting URLs to make them cleaner and give them better readability.
These name of the files, .htaccess, derives from their early usage. They were first used to regulate user access per individual directories. Through the usage of a subset of Apache's http.conf setting directives, you were able to restrict access to particular directories to those users whose names and passwords were specified in the .htpasswd file.  It is important to note that .htaccess never lost its original purpose and are still used for access control today. However, as the technology and our understanding of it progressed, other useful aspects of .htaccess were discovered, as well as the ways for us to use them.
Theoretically, every directory or folder on your server can have its .htaccess file, but in general, there is usually one in the web root folder. That folder has all of the content of your website, and it is usually named like Public_HTML or www. On the other hand, if you have one directory that features multiple website subdirectories, one .htaccess file will most commonly be in the main root directory or Public_HTML, but also in every subdirectory (/sitename).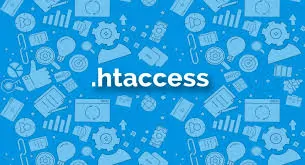 Issues and solutions
Sometimes when you attempt to change .htaccess file can render a WordPress site inoperable. It could show all pages 404, or a white screen, or it could redirect you to weird places, or prevent you from logging in altogether.
Whatever the case may be, if you are somewhat confident as a website owner you may attempt to configure your .htaccess file manually, through FTP. This would basically mean that you wipe your file clean and then slowly add new "bits" completing your prepared checklist, making sure that the newly added element didn't cause any damage to the overall comprehensive system.
Manual resetting of the .htaccess file is done through an FTP software (most users who go for manual reset use FileZila). So, in order to even consider dealing with your .htaccess file manually, you should know how to work with FTP software. It is important to understand that this method is very risky, even for experienced developers. Any kind of manual editing of the .htaccess file can potentially cause major server errors. If configured incorrectly it could cause some permanent grief to your system.
Luckily, there is a number of plugins on the market created to enable you to easily operate with your .htaccess files. However, some plugins are more successful than others, and some are simply easier to navigate. When it comes to top-notch plugins from this field, you WP Htaccess Editor is at the very top of the game.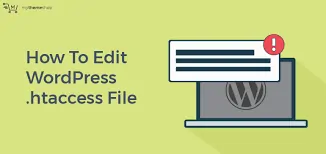 WP Htaccess Editor
From 400 to 505 error, your server can respond with a variety of error codes. Most people are familiar with 404, which is your server returns if the requested document cannot be found. Errors which start with 4 are client request errors and those that start with 5 are server errors. From the latter ones, you are probably familiar with 504 error, or Gateway Timeout.
With a manual approach, if you fail to specify a type of error handling, the browser will display one of the generic messages to the user. Needless to say, this is not ideal. On the other hand, if this or any other mistake is made, but you are working with a WP Htaccess Editor plugin, you can simply go back to the last auto-saved backup. Backups can always be restored from the plugin, or through FTP if certain errors in .htaccess file keep WordPress from running normally.
Furthermore, WP Htaccess Editor plugin is extremely easy to use. Unlike a variety of other similar plugins that feature numerous confusing options, WP Htaccess Editor is clear and simple. You won't need a manual and it doesn't require any effort on your part. All .htaccess edits are done straight from WP admin and all backups are automatically created so you are safe and fully secured.
The plugin also features highly practical syntax Highlighter. While you edit .htaccess, Syntax Highlighter enables you to see the typos you make early on, so it is easier and quicker to fix them.
WP Htaccess Editor is also fully compatible with WP Network or WPMU, and it appears under the Settings in network admin. However, it is not available in any individual sites because there can only be one .htaccess file for each network.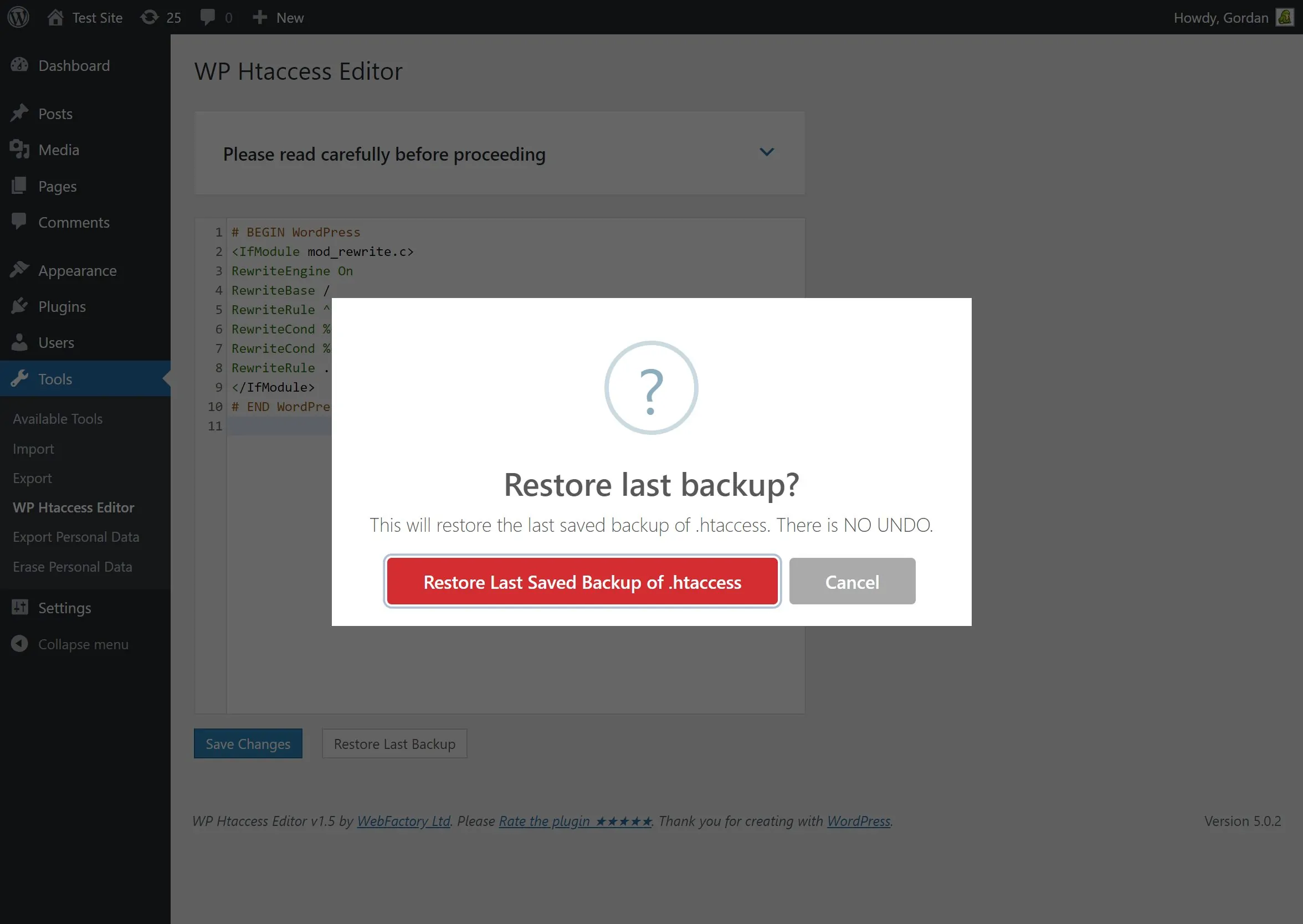 WP Htaccess Editor plugin is backed up by the competent and hardworking support team. When you need help or you want some answers just contact support. The team consists of people who actually built the plugin and are most familiar with all its aspects. We should also note that the plugin was created and maintained by a prominent company with more than a decade of WordPress experience.
It is also significant to mention that WP Htaccess Editor plugin is used by 40,000 people on a daily basis and that one of the reasons for that is probably also the fact that it is completely free. You can download this terrific plugin at any time, without any registration and free of any charge.
In conclusion, before you start panicking and popping Xanax like tic-tac over some error code that reminded you of the Fourth Horseman of the Apocalypse, download WP Htaccess Editor plugin. It will save you the headache of doing everything by yourself, and it will also save you some considerable cash you would otherwise spend buying some useless and complicated plugins.