Marketing material for Security Ninja
This page contains marketing material that can be used to promote Security Ninja. We are gradually adding content and if you are signed up as an affiliate you will be added to a special newsletter where you get notified when there is new material or other interesting information.
If you are looking for something in particular or you have a great idea for us, reach out - we will be happy to help 🙂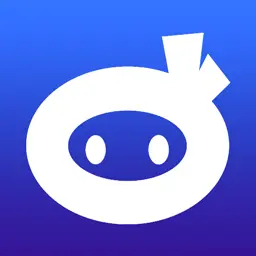 Example introduction text

WordPress Security should be easy. Although a critical part for any website owner, many people do not use security software because it is too complicated to use.

This is where WP Security Ninja helps. The easy to use plugin offers robust protection and prevention methods. Set it and let it protect your website in the background while you focus on running your business.

Security Ninja comes with a firewall that protects against suspicious requests, blocks millions of known IPs, malware scanner, known vulnerabilities warnings, audit logger, scheduled scanning, and much more.

Loved by users and hated by hackers - Security Ninja has protected websites since 2011.
Banners
Use these banners to put on your website or use in your newsletters to promote Security Ninja.
Currently the following banners are available:
160x600, 250x250, 300x250 and 728x90. Both in two variations, gray and blue. All banners have a retina @2x version also, to keep your homepage look crisp 🙂
Download all banners
The zip file contains all available banners. Both gray and blue variations are available and all banners come with a double size retina @2x version also.
Hotlink protection enabled
Warning - Use the images in the zip file
Please use the files from the zip file on your own website. We use hotlink protection, and this means if you try to embed one of these images directly from our server to your website it will not work and show a blank image.
Grey and blue variation available.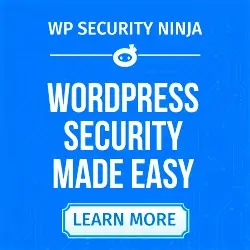 Grey and blue variation available.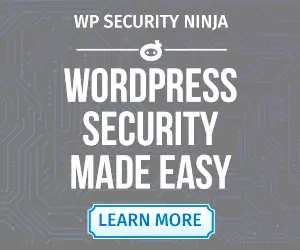 Grey and blue variation available.

Grey and blue variation available.