Security – is the primary concern that many website owners are still worried about.
Security Ninja is no doubt a solution that will protect your WordPress website from hackers and malware attacks.
But what if you manage multiple websites and it becomes difficult for you to keep a watch on all of them at once?
This is where I'd like to introduce a reliable WordPress management tool, MainWP.
MainWP is an open-source website management tool that helps you manage an unlimited number of websites through one single dashboard.
Why MainWP?
What if you are managing 30 websites and one of them gets hacked? How would you know?
Track all website activity through the single MainWP dashboard and be the first to notice an unexpected movement in any of those websites.
While we are busy fighting unknown hackers, are we 100% sure of those with different user roles on these websites?
Manage user roles and their access through your MainWP dashboard to make sure you grant only the required access to your trusted ones.
While these are a couple of reasons I found MainWP appealing, there are many more I am sure you'd like to know.
Can we club Security Ninja and MainWP together?
Yes. Of course. While Security Ninja helps protect websites from hackers and malware attacks, the Security Ninja for MainWP extension helps protect multiple websites at once.
This isn't all. There's a lot more than security that MainWP brings to the table. Let's look into them one by one.
Important Features of MainWP
As I mentioned, security is just one factor. There are many more promising features that MainWP offers to help you manage and maintain websites with ease.
You can maintain security with one-click admin access.
Manage unlimited WordPress websites through a single dashboard.
Manage plugin and theme installations through the MainWP dashboard.
Manage and monitor user roles through the single dashboard.
Keep a watch on the domain information like the expiry date, etc.
Monitor website performance and more through the Google Lighthouse stats you see for all connected sites on a single screen.
Get access to multiple backup solutions and uptime monitoring for all websites.
Now, what is the dashboard that we are talking about? And, how is it possible to include and watch over multiple websites together?
This isn't a multisite setup. So, let's see how we can…
Get Started with MainWP
We begin by setting up one main WordPress website, which we'll view and manage the websites from.
MainWP comes in the form of two plugins – one is the MainWP Dashboard, and the other is the MainWP Child.
The MainWP Dashboard has to be installed on the main website we just set aside.
The MainWP Child plugin needs to be installed on each of the websites you plan to manage through the dashboard.
You'll further need to connect the Child Sites to the main site, so you see it listed in the dashboard.
The team at MainWP has a well-written article that will take you through all the steps involved in getting started with MainWP.
Deeper Look into the Features of MainWP
Let us take a closer look at the dashboard of MainWP and all it offers.
Keep plugins and themes up-to-date
Have you heard about the fact that plugins and themes may come with security vulnerabilities too? They often release an update that gets missed, and it's taken advantage of by unwanted intruders.

So, this is one great feature where you can make sure the themes and plugins on all your websites are up-to-date.
Monitor everything that's happening on your websites
As mentioned above, you can track everything happening on the websites from the MainWP Dashboard itself.
You can track new blog posts, pages, or any changes made. You can also group similar websites or those of the same clients.
Here's an image to show you how managing website pages and posts are made possible through MainWP.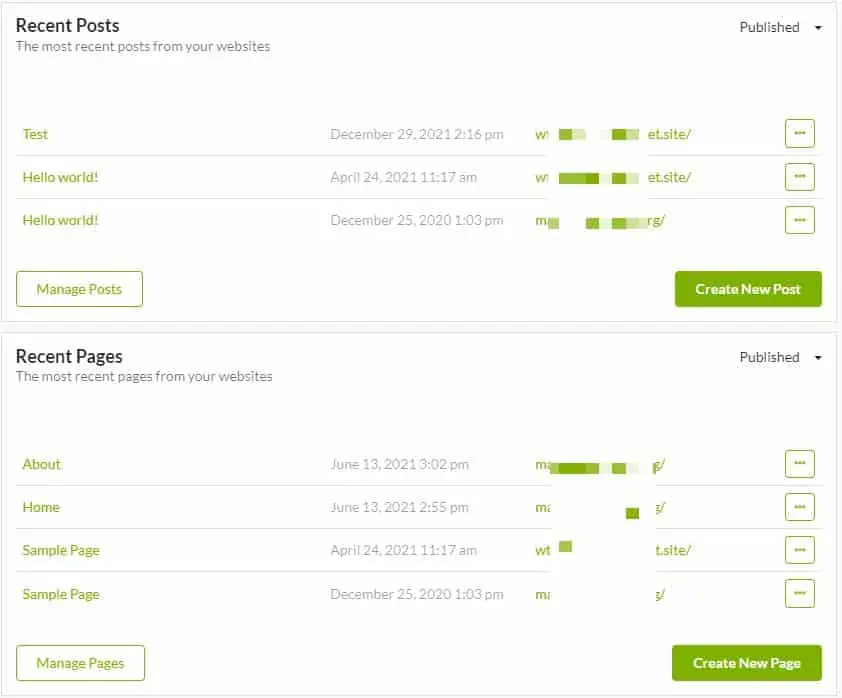 Here's how you see the options in the side panel of the MainWP Dashboard.

Timely security-related notifications
Now that we are talking about website security, here's one important feature that notifies you about the security fixes required in any of the websites.

You can also expand these notifications to see the details.
What's more?
The Security Ninja extension for MainWP helps protect all your websites through one dashboard.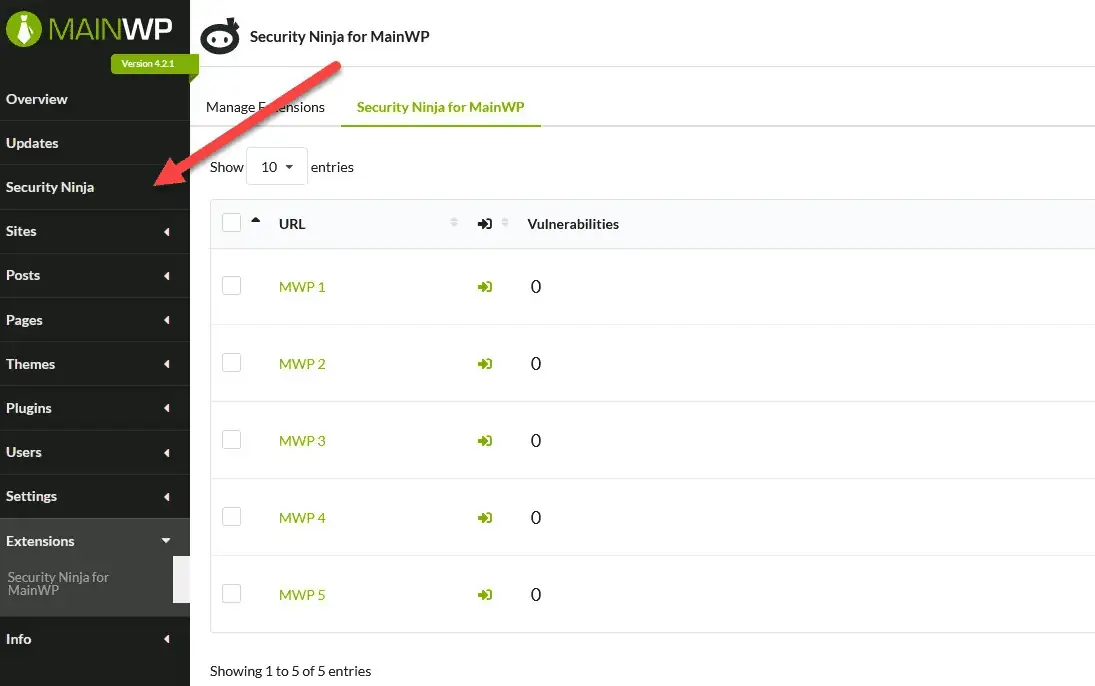 This helps you to
Identify any vulnerable plugins installed on the websites so that you can update or remove them.
Identify any kinds of dangers by referring to the vulnerability database that consists of over 2700 known vulnerabilities to plugins and themes.
Prevent many common security issues by picking up the security score of each website via the Security Ninja plugin.
Read more about the Security Ninja extension for MainWP to understand how easy it gets to manage website security.
Monitor and track your site health, backups, and more
When you manage multiple sites together, it becomes difficult to take timely backups and track their uptime or the site's health.
With MainWP, this seems easy when you can set the frequency of backups to be taken and monitor the uptime and overall health of all the websites you manage.
MainWP Extensions that extend possibilities
Along with the inbuilt management features, MainWP also introduces 40+ valuable extensions to help you manage everything through the dashboard.
Whether it be analytics, taking backups, creating staging sites, etc., you have an extension for it.
Here's what you can do using the MainWP extensions:
White Label the MainWP Child plugin and show it as your brand.
Check the performance of all connected websites automatically.
Check the domain information of all connected sites at once to keep your clients informed.
Manage comments on all the websites through one dashboard.
Clear all unwanted content & optimize the database of each website.
Control security across your network using the Security Ninja extension for MainWP.
Track and monitor the analytics of each website.
Generate customized reports that can be sent over to the clients directly from the MainWP Dashboard.
Manage WP Rocket settings on all Child Sites through the dashboard.
Create staging sites or clone websites of any child website through the dashboard.
Wish to know more? Here's more to it.
Now that we've seen everything MainWP can help you with, what's its cost?
The Price You Pay for MainWP
MainWP has some amazing plans that you can opt for according to your requirements.
But, wait…
Did you know you can start for free?
MainWP offers most of its features for free. You also get several free extensions that you can use to open up new features.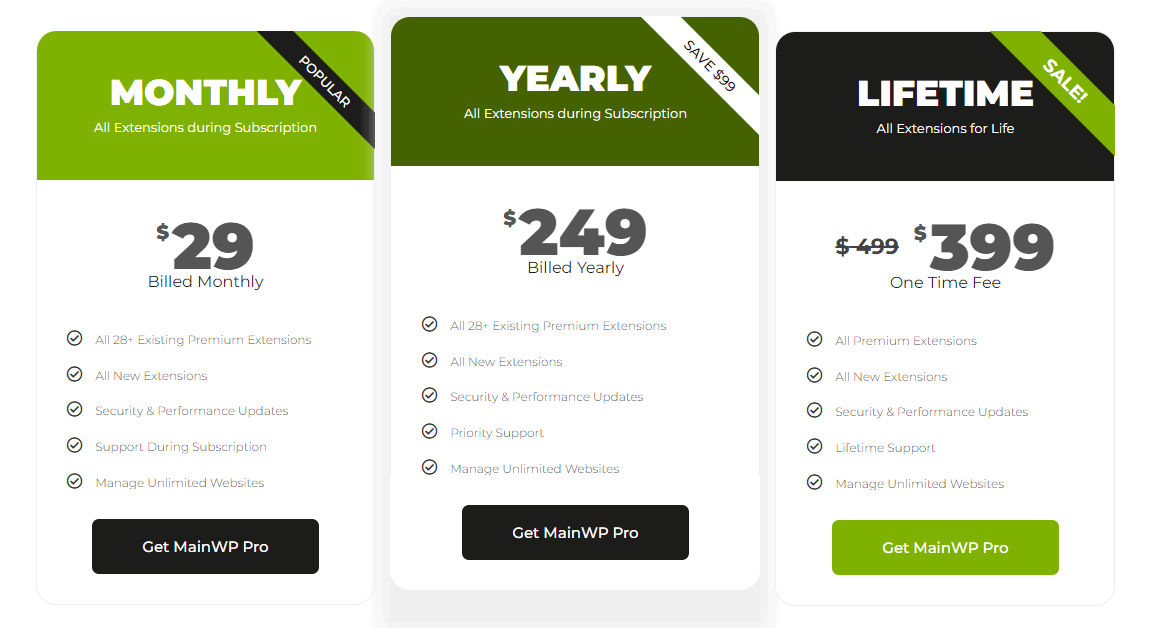 Investing in the paid versions is not harmful either. They offer a 30-day trial period to purchase and try all the features before you make up your mind.
Do You Need MainWP?
If you manage multiple WordPress websites, I recommend MainWP to be one of the best solutions in this category.
It offers a platter of features for free and the ability to extend and upgrade to a plan that matches your needs.
That sounds so flexible to start on a flexible and more accessible journey of managing websites!