Transactional email is a special type of electronic service made to support transactions and make the communication between two parties easier. Normally, it contains important information the customer needs to register (creating of an account), password resets, and notifications. If you're looking to get started with creating and sending these emails, have a look at some of the Mailchimp Alternatives out there.
[bctt tweet="Transactional emails are very important for your #business. Do you know that's actually relatively easy to create & send them? @designmodo"]
Four Types of Transactional Emails
Account creation emails are the first step in communication with subscribers. Besides the information about creating an account, it provides further instruction or points out the next step. Personalization of the account emails improves reports and makes you seem more professional.
Password reset emails enable the visitors and users of your website to maintain control over the account. There are many situations in which the password needs to be recovered, and it is essential to think about this kind of transactional emails in advance. By creating this kind of emails, you shall consider the reliability of the service provider and the protection of users against fraud. You are obliged to cover all potential subscribers' questions considering password reset email.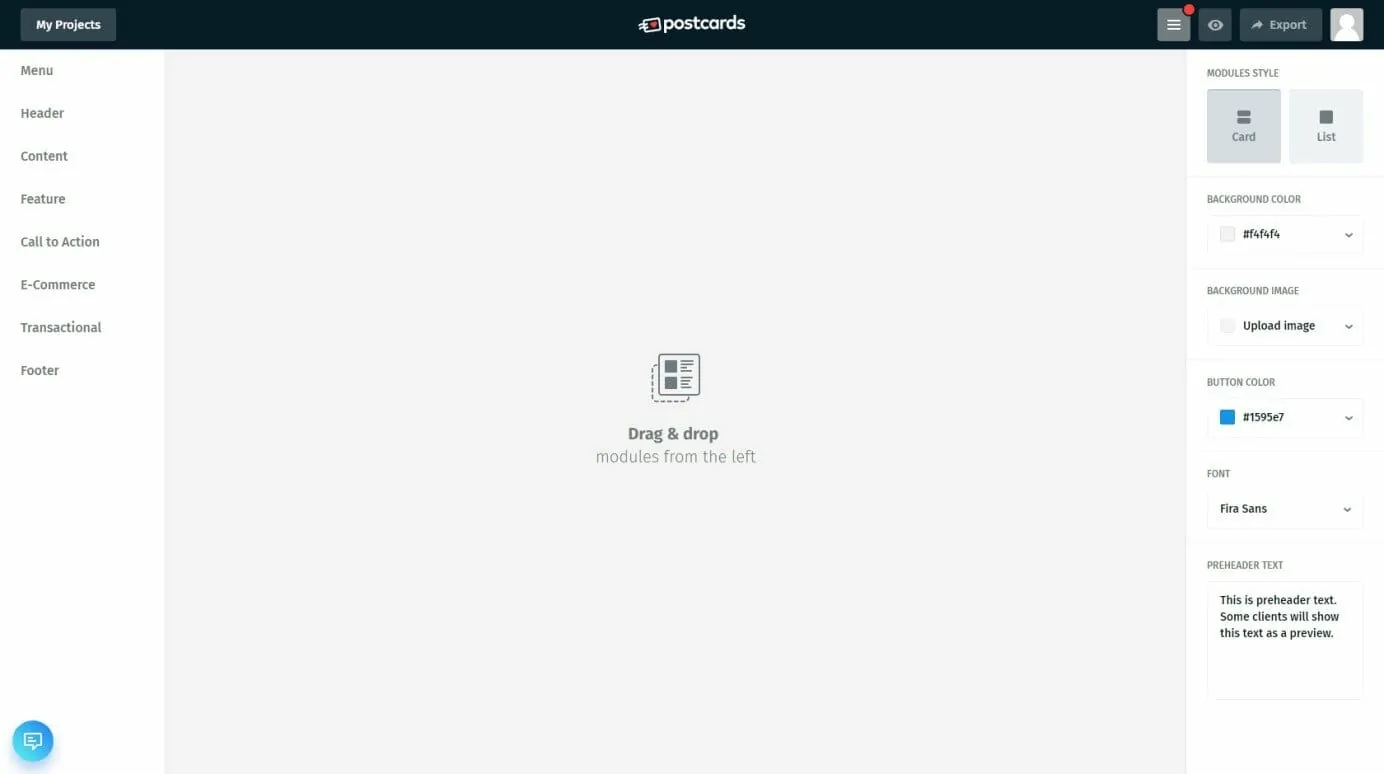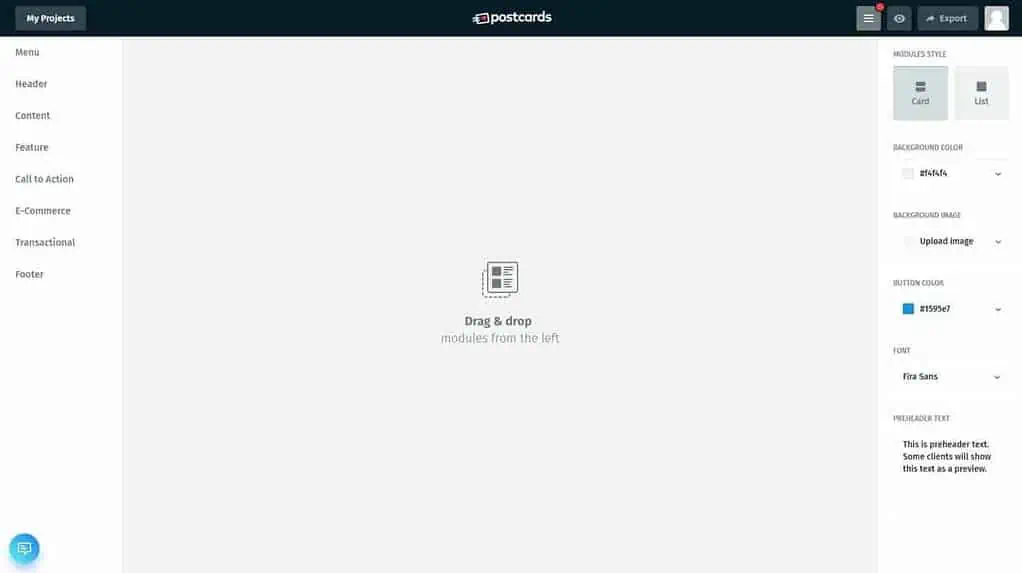 When it comes to purchasing receipt emails, a lot depends on being accurate. Delays may cause delivery to the spam folder which is not welcomed for your brand reputation. Good users' experience leads to higher revenue. Think about it while designing receipt emails and add details on payment and shipping. Purchased item can be also included in the body of the email. To be fully responsive, ensure the optimization for different devices. Your website or app is a living thing that changes from time to time.
Account notifications emails serve to inform users about ongoing activities. It improves the connection between the brand and its users. This category includes alerts on business metrics and updates on content uploads or downloads. Consequently, users remain engaged with the brand. For the sustainable email communication strategy, transactional emails are of utmost importance. To ensure they will be noticed in the inboxes, you will need a trusted app to design them in accordance with your needs.
Designmodo Postcards Transactional Emails Templates
Designmodo Postcards app offers you to create and edit professional transactional emails without programming skills in no time. Every transaction comprises several different steps to be successfully completed and confirmed.
You will need a template for each phase of the process. Designmodo Postcards' Email Generator contains a base of 20+ various modules you can freely choose from. They differ in appearance and purpose, and it is best to start from the beginning. Find a menu under the Transactional option on the left side of the Email Generator, and search for the best template you want to start with. Before you make a final decision, you can try several options by drag and drop the template to the middle of the screen. In this way, you can better estimate how does it look and start design it to match your brand.
Uncompleted Purchase Example
It happens that someone places the order but does not complete the purchase. The transactional email informs the customer about the uncompleted purchase. Choose the module you like and click on the upper right button to edit it. The menu on the right side enables you to modify the title, text, buttons, and table. Simultaneously with your typing, the text will appear in the template.
You can change the text color and spacing between the title and the main text. Usually, there is a button complete the purchase, but you can add other buttons if you want. Edit button to change its background or text color. Table option represents the items. It contains the header, picture of an item, quantity, and price. Edit them one by one, and create the appearance you like in just a few steps. Table body contains the list of items. You can upload or change the image or link a direct URL for each item.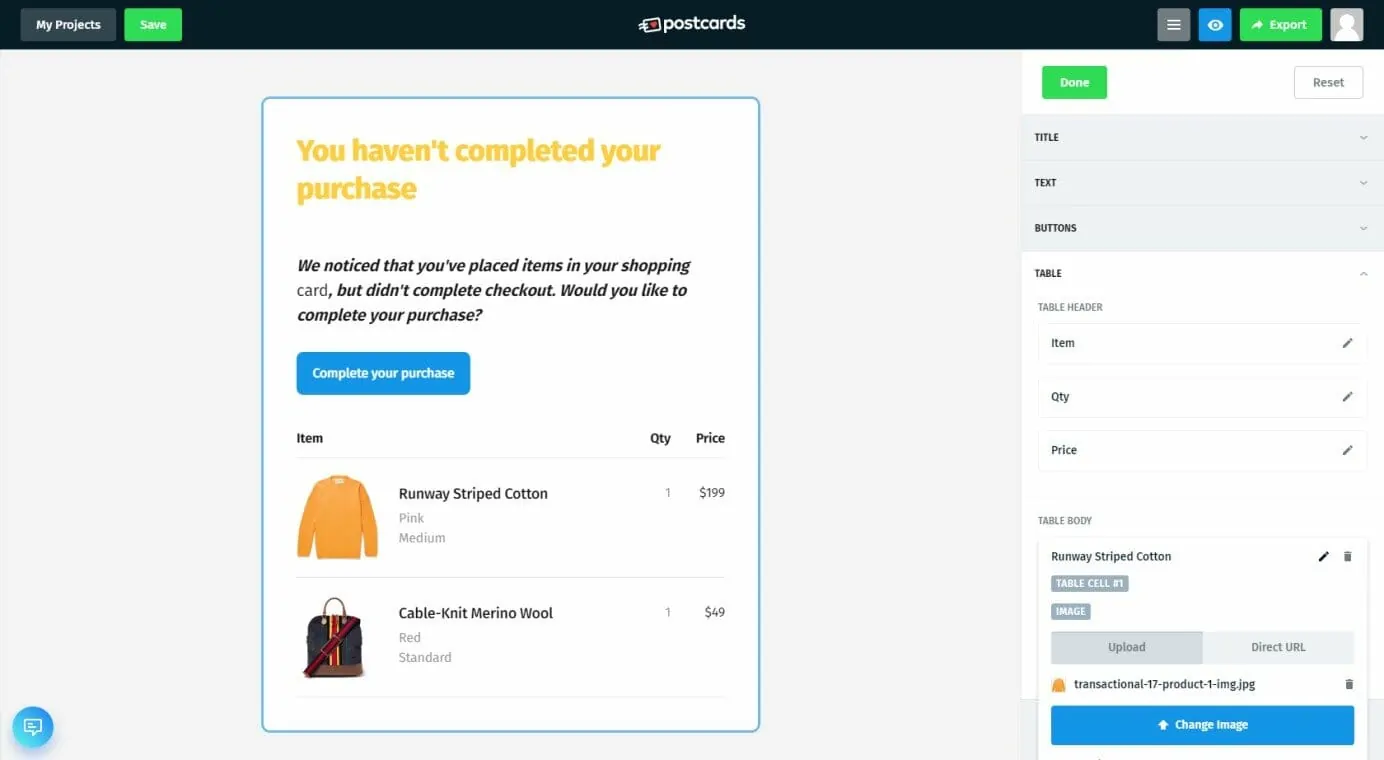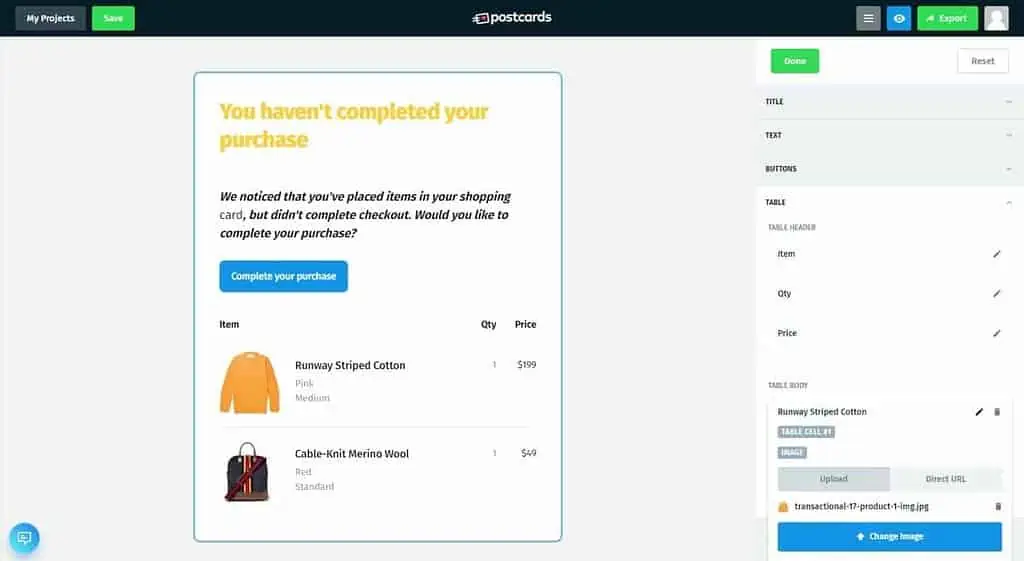 Cancellation of Order
Online shops deal with the cancellation of orders on a daily basis. A customer can change their mind at any time, and you will need a transactional email for that purpose too. Your order has been refunded is an email you can create at the same time and release as a notification if needed.
The process of creating a template is fast, simple, and easy. Drag and drop the half-finished solution from the left side menu, and edit to make it more personal and customized to your brand. The subtitle, title, and the text can be changed in terms of color and spacing. You can also bold those parts of the text you find more important than the rest, or you can put it to italic to emphasize the difference. Cards is an option related to the order number and date, shipping and billing address. The items table is just below that.
Thank You for the Purchase
Although a common purchase requires only a couple of minutes, it is a complex process which includes a long list of transactional emails. Postcards app from Designmodo covers it all. The necessary templates can be created and edited in Designmodo in no time including the gratitude for the purchase. Such a message is kind, and it reflects care for the customer.
It is not only polite but professional as well. This template has been designed in two modules styles – card and list. While editing it, you can personalize common features and change the background color or upload a background image. View my order button can also look different. When it comes to fonts, you can search for the one you like most.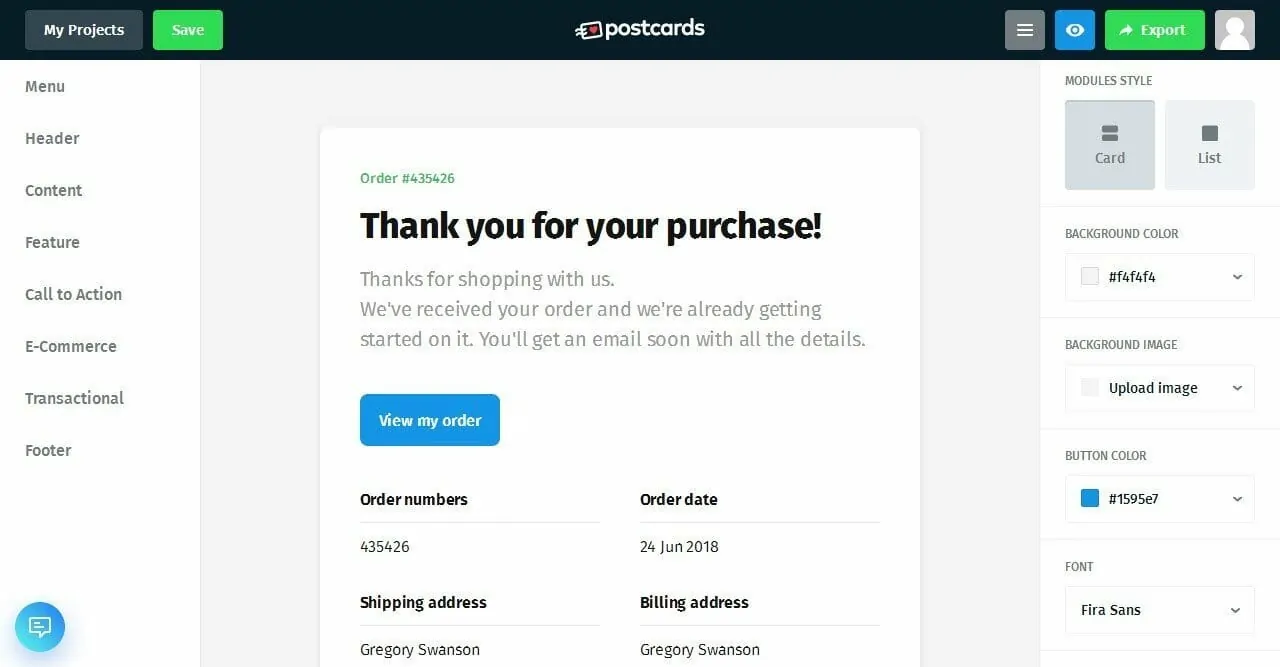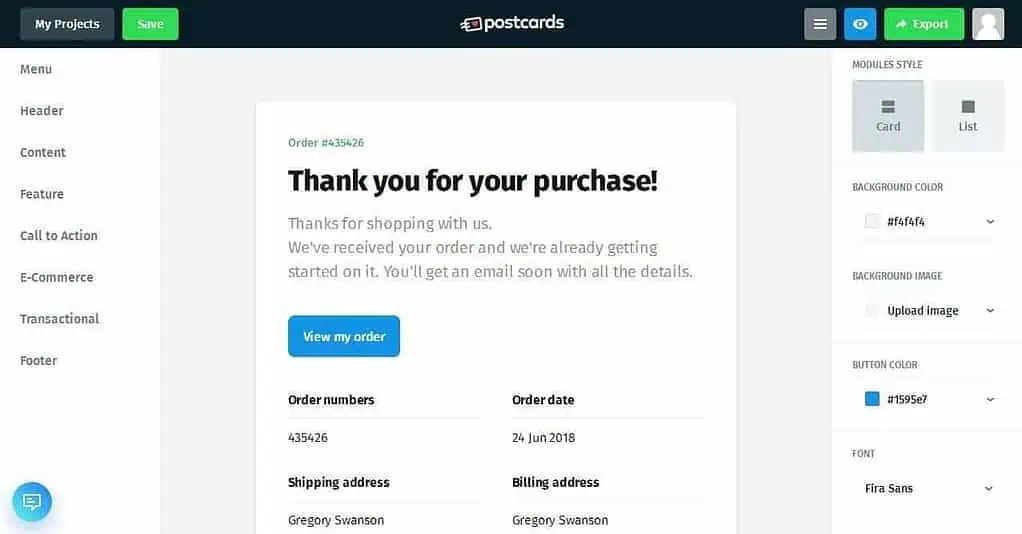 Information about the Status
Other transactional emails are related to information about the order status. First in line is the information that the order is on the way. It can be replaced with the template Your order is out for delivery which is available in two options – with items included or without them. If it comes to any change of the status, such notification also comes with or without ordered items.
The new button in these transactional emails is Track my shipment which enables the customer to check the status at any time with the help of the track code. In accordance with your needs, you can create additional buttons. The last in line is Your order has been delivered which marks the end of the purchase process.
Emails the Customers Will Not Overlook
To create a transactional email with Designmodo Postcards application you need only basic knowledge of how to use the app. Drag and drop builder will you use to choose the template, and all the editing is in accordance with best practices. It enables you to establish the connection with your customers, from placing an order to final delivery.
Just be careful not to overlook some important step of the process, and keep in mind that users' experience directly affects the rating of your brand. It happens that some email does not get deserved attention, but if you care about transactional emails, it is hardly possible for the recipient not to see them.
By using Designmodo Postcards app, you can create first-class transactional emails which appearance is clearly connected to your online shop or some other brand. You can do it by choosing the same colors, fonts, and backgrounds or by including the logo of your company.
Sustainable Email Strategy for Better Rating
It is a common mistake that transactional emails are bulk emails. Far from being the truth. Transactional emails are important since they are in charge of monitoring and reporting about the status and delivery of an order.
Postcards enables you to become a pro in your industry and to build a sustainable email strategy that will bring you credits by your customers. All tools have been designed to save your time and lead you to the excellent result with little effort. You should care about transactional emails since they are a natural and important part of your business.
Customers keep in touch with their orders at any time, and consequently, they will rate your brand with five stars. It is a prime goal of every company and it depends a lot on users' experience. Transactional emails you create with Designmodo Postcards are concise, helpful, and appealing, and there are hundreds of opportunities how to create them to be unique. If you do a good job in advance, there is no opportunity for your customers to receive emails with delay let alone with the incomplete status of the order. Pay attention to potential delivery issues, and act immediately.
Taking care of transactional emails means paying attention to your customers. Such emails are concise but informative, and with Designmodo Postcards you can create them to look appealing and remain personalized at the same time.
It is important to drive the action, further promote your brand, and provide new subscribers and potential customers while you keep the existing ones engaged and satisfied. Make transactional emails special with the text and design and be sure the customers will feel the same way. Automated confirmations and notifications are not a good choice. You should take all advantages of simple, modern and fast application to make transactional emails personal. Continuing engagement is half a way of getting the feedback, stars, and followers on social media. Additional purchases are a natural consequence.