The privacy of internet users should be protected. That is why most advertising programs such as Google Adsense require website owners to have privacy policies on their pages. A WordPress privacy policy should include such information as cookies, comments, registration, and subscription forms that the users provide once they visit your blog. Typically, such private information is collected through web analytics software. Many times, visitors voluntarily offer their details by filling out subscription forms and commenting on your content.
[bctt tweet="A #privacy policy for the #website must state how you utilize the #data gathered from your #visitors."]
For instance, if you advertise through third-party sites, it means the private details of your users will also be viewed by your partners. When constructing a mailing list, you have to assure your readers that their addresses shall not fall into the hands of a third party.
Why you must create a privacy policy
The most obvious reason is that having a privacy policy is required by the law. It shows that you have no intentions of carrying out malicious activities through your WordPress blog. For instance, the EU's GDPR (General Data Protection Regulation) requires website owners to be very transparent to how they gather and utilize personal information of the EU residents regardless of the location of their business. So, your business must comply with GDPR lest you pay a penalty of up to 4 percent of your annual revenue.
Here is a list of the common user information most WordPress sites collect:
Google Analytics: these are techniques applied to track reader's interactions. They collect such items as user IDs, IP addresses, and cookies that determine the behavioral profile.
Contact forms: you need explicit consent by users to store contact form entries or if you want to use the data for marketing.
Advertisements: if you advertise through third-parties, you must seek permission to share your visitor's behavioral information with the advertising partners.
Comments: comments usually come with users' email addresses. Personal data is also saved in cookies.
What does this tell you as a WordPress user? You are most likely gathering personal details of your users.
You must publish a privacy policy page on your site to protect your business from litigation problems as well as foster the trust that your guests have in you.
Steps to creating a privacy policy in WordPress
First, understand how WordPress privacy policy plugin works and the necessary facts that should be included in the statement. To create a privacy policy page, you need a privacy policy generator to make your work easier. Then you have to enter the name of your site and several details in the generator. The template offers a head start, but you can enhance it by giving out data details of various plugins that you use. Here is a step-by-step guide you should use.
Go to the WordPress dashboard and select the Pages option. Click on Add New Option on the left column of the screen.
Name your page "Privacy Policy" and insert the statement in the editing screen. If you wrote the statement in a text editor, paste it into WordPress.
When done, publish the policy by clicking the Publish button.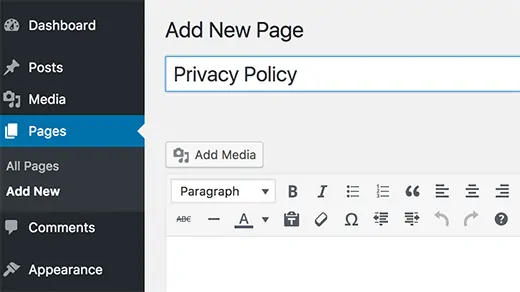 After publishing, the statement is ready for viewing by visitors, but you need to enhance its visibility particularly if your new pages are disabled from being transformed into menu items. The footer is the most common place for the policy so you can create a link here. You should be able to access the foot segment of the website. If not, you might want to install a new WP theme.
Create a custom menu by clicking on the Appearance and choose the Menus option.
Create new menu items such as terms of service, privacy policy, etc. After organizing the pages click on Create Menu button.
Go to Appearance and then the Widget option. Add widgets to create the custom appearance for your blog.
In the Widget section, you'll see two parts labeled locations and widgets. Drag the widgets from a list at the left side and drop them in the location section on the right side. This part may have such options as the Header, Sidebar, Footer, or Content depending on your WordPress theme.
If your site features the BusinessBuider theme, you have access to 3 footer areas. There is also a Search tool in the first Footer. If this is the case, here is what to do:
Click on the Search component and delete it.
Drag Custom Menu Widget and drop it in the Footer section.
Name this widget with something sensible from the previously built menu, e.g., "About Us."
Save your page.
There you have it! You have added privacy policy into the footer of your website. In case you don't want to change the theme and your site lacks the footer, you can add the policy to the sidebar or navigation menu. The idea is to have the viewers access it easily.
How to add a simple privacy policy to WordPress – the easy way
These days, it looks like all the discussion online has only been about consent for data, privacy, etc. A privacy policy has always been helpful but it is now a requirement for all the websites. It has left many website owners to ponder on "how to add a privacy policy?"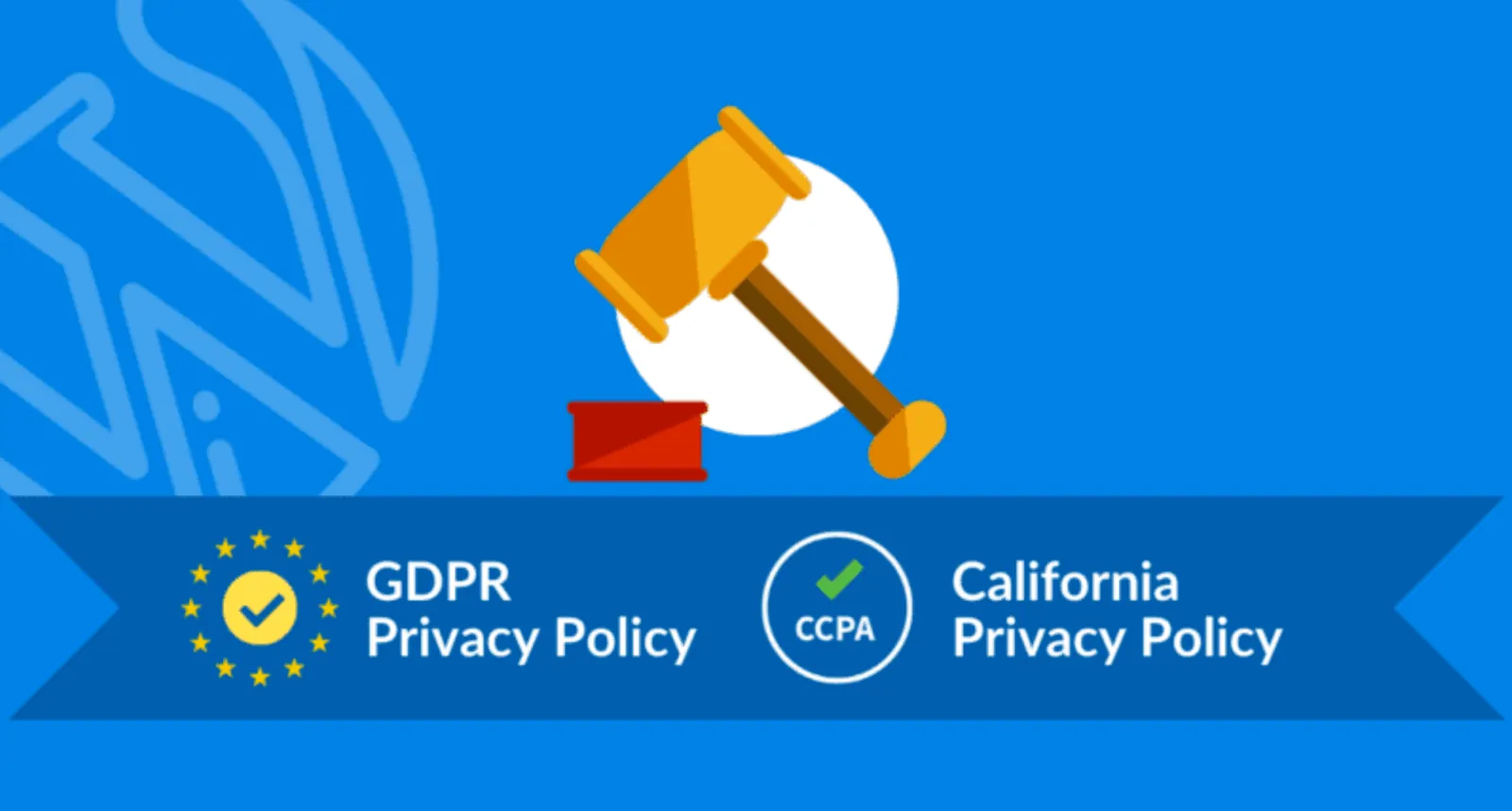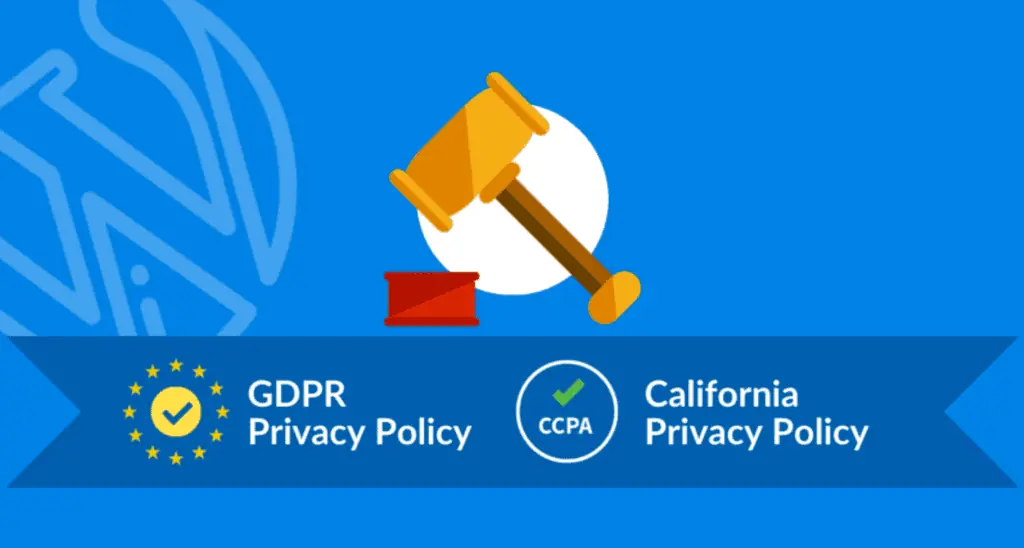 Fortunately adding such types of policies has never been easier thanks to a handy WordPress privacy policy generator available. WP Legal Pages is a WordPress plugin that allows you to create attorney level privacy policies on your website. Follow these steps learn how:
After you have installed and activated the plugin, go to the Wizard tab in the WP Legal Pages column.

Click on the Privacy Policy option to create a GDPR compliant privacy policy.
Fill in your company details and click continue.
You'll be redirected to the WordPress editor where you can edit the privacy policy manually if need be.
Click Publish.
There you go, in just a few clicks you have created a GDPR compliant privacy policy. WP Legal Pages lets you generate 25+ policy pages required for any type of website.
If you want to have a safer site, also go through some useful WordPress security tips and find out how to accomplish that. For more general info, see how to use WordPress.
Further reading: How to change WordPress username without messing everything up.